2004 Top Asian Film Picks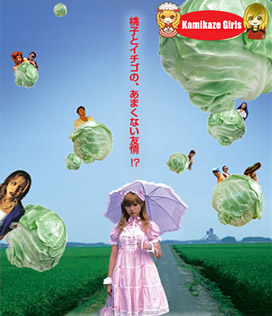 ---
Japan
As is always the case with Japanese films, it is a challenge to see many of them on DVD in a timely fashion due to their high expense, their slow rollout and their often frustrating lack of English subtitles – but from the list at Midnight Eye I count eighteen films from 2004 that I have seen so far. At least from the films I have seen, I think that presently Japan has the most interesting and original films coming out. Often Western fans find themselves most attracted to the extreme Japanese films, but the ones that I enjoyed this year tended to be comedic, whimsical, pop art and life affirming. I really loved some of these. In no particular order:

---
Casshern
This astounding visual film almost sinks in its own weight of narrative confusion and self-indulgence, but it overcomes this with a mesmerizing visual palette and frenetic imagination that felt fresh like a newborn baby coming into the world. All I felt was "wow". Director Kazuaki Kiriya fills each frame with painterly obsession to create a future that is frightening and fascinating as he depicts a world always at war and a populace beaten into submission by technology and hatred. With influences from silent sci-fi expressionism to Leni Riefenstahl's grandeur fascism and enough CGI to make you call in sick, he hypnotizes you with flash and then suddenly punches you in the gut with his plea for peace and sanity. To me this felt like the only film from last year that really broke new ground and gave us something that we have never experienced before – it's visual overload perhaps and something I could not take a steady diet of but for those two hours I was transported into cinematic ecstasy.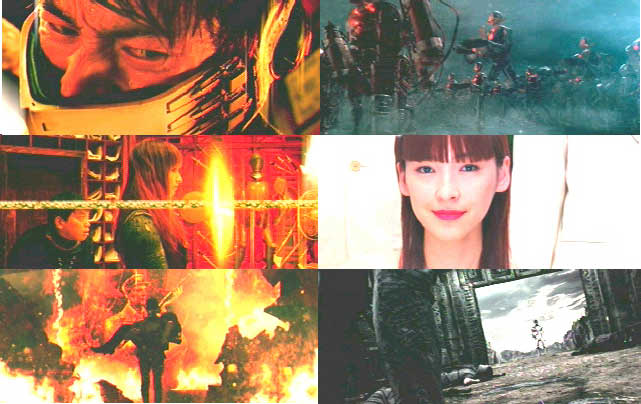 ---
Complete Japanese Showa Showbook – a.k.a. Karaoke Terror
What could be more natural than a war between young punks and middle-aged women? That's what we have here and it is by turns quite amusing, shocking, curious and very satisfying. For no reason other than ennui a teenage boy kills an older female stranger and walks away in certainty that no one will take much notice. The police and her ex-husband seem to care less but her female karaoke partners refuse to take this insult to their gender and their status in life as divorcees lying down – and so they track down the boy and in a stunning moment kill him with a sudden slash to his throat and soon both sides are looking for revenge and respect.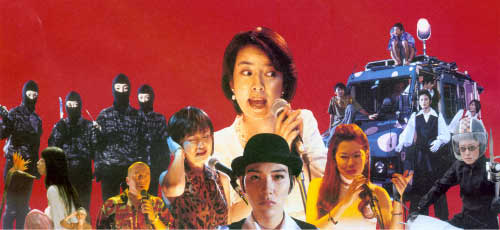 ---
Hana and Alice
This is a delicately fragile film from Iwai Shunji that covers teenage insecurities, fantasies, whims and friendship in a wonderfully comic and sweetly humane manner. It thankfully forgoes the teenage angst portrayed in most Japanese films of this kind and instead paints a picture of real girls with real teenage problems who are real friends to the end. In this way it reminded me somewhat of "Ghost World" – as Alice and Hana plough their way through those horrible teenage years and the dreaded first romance as best as they can. A lovely film that completely hooks you in with its charm. The dance performed by one of the girls at the audition may be the most satisfying and magical scene from last year for me.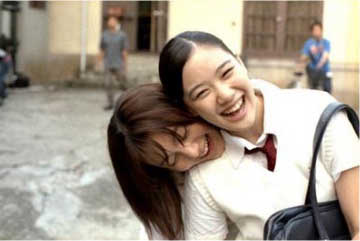 ---
Josee, the Tiger and the Fish
The girl has cerebral palsy and her eccentric grandmother carries her around buried beneath blankets in a baby carriage and a young man becomes curious about this and looks in on them and becomes involved with the girl. At about this point you are probably thinking this is a "movie of the week", but it is anything but that. It is very funny at times and it completely sucks you into the story with its sense of community and hidden joys.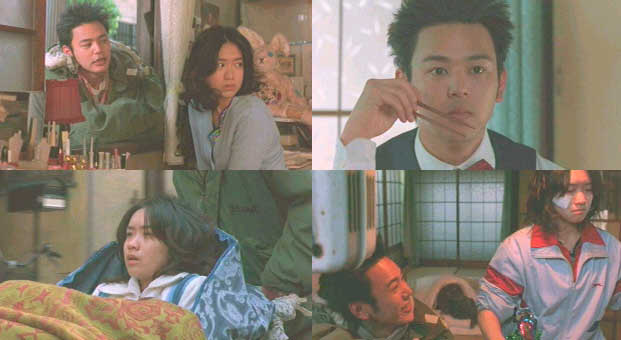 ---
Kamikaze Girls
It seems primarily only the Japanese are able to make good films about female friendship these days – "Bounce Ko Gals" a few years ago, "Hana and Alice" this year, "Out" two years ago and now this wonderfully fanciful charmer that is very funny and more than a bit ludicrous. When a tough biker chic and a ditzy girl into outlandish Rococo fashions become friends anything goes – this one will have you wanting to cheer their friendship and their courage to be different by the end. One of the truly feel good films from last year.


---
Survive Style 5+
This is an absolutely zany film that crosses over often and joyfully into total absurdity. Basically, it follows a few separate threads though some of them connect up at various points along the way – all of them playing out with different degrees and styles of humor. One character kills his wife and buries her - again and again and again - only to find her at home ready to kick his ass, another guy is hypnotized into thinking he is a bird and his family gets use to dad chirping, a female TV commercial writer plays her life out in 30-second commercials in her mind - some of them very funny (Sonny Chiba is one of her clients), there are a couple incompetent robbers who find they are more than just friends to each other and Vinny Jones is a professional killer imported from the UK who wants to know from his victims what the meaning of life is before he kills them. The film just zips around like an out of control rubber ball with an ending that is so sublime and perfect that you want to believe in happy endings again.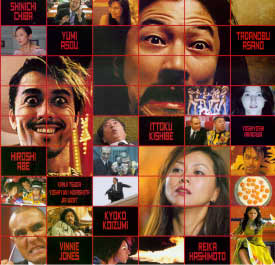 ---
Zebraman
This is the tender side of Miike - his most playful and most optimistic. A middle-aged teacher dreams about his childhood superhero Zebraman and somehow fantasy and reality collide to make him the man he always wanted to be – a hero to his son and a threat to evildoers everywhere. An absolute delight and joy.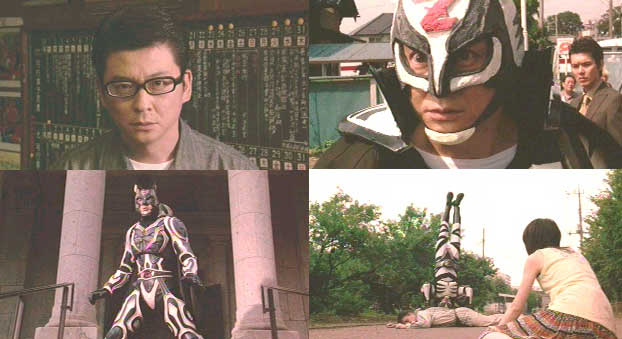 ---
Cutie Honey
Watch out boys, there is another super hero in town and this one has the power of love and the cleavage to go along with it. An office lady by day and a super hero whenever she needs to be, Cutie Honey is as infectious and bubbly as a caffeinated lollypop. Played by a piece of living pop art (Eriko Sato), Honey is part five year-old and part pin-up girl and as innocently provocative as a Vargas illustration. Based on a Manga, this is as close to anime as live action can get and it is a hailstorm of colors, special effects and lunacy as Honey battles the evil Sister Jill and her gang of clawed killers. When she died in a car crash, her father made her anew as an android but with a heart that is all human and a power cell that is fed with sushi – lots of it. This is so good-natured that it is nearly impossible not to be swept up in its zesty good cheer and creative bursts of energy. Cutie Honey forever!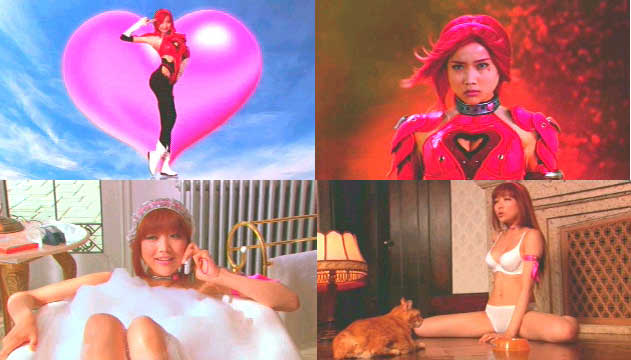 ---
The Taste of Tea
One would never guess that this is from the same director as "Sharkskin Man and Peach Hip Girl". While that film was all contrived speed and flash, this film is languorously patient and as warm as a summer breeze. It is also marvelous. It is 140 minutes long with practically no plot as it just riffs off of this slightly eccentric family with lovely little payoffs - comedic, touching, weird - along the way. The film builds very slowly – small vignette by small vignette - that creates an insular world in which the simple smile of a child in the final frame is enormously satisfying. The film follows the lives of the parents, the grandfather, an uncle and two children in their fairly ordinary lives. But the director finds bits of magic and fantasy in these lives – the boy running in the rain after falling in love over a game of Go, the mother seeing her anime creation come alive on the screen, the grandfather making a music video, the little girl trying to do a back flip and the whole family looking with wonderment at the grandfather's gift to them all. There are no big bang moments, no dirty secrets, no excess melodrama – just the minutes of our lives adding up to something special on the screen.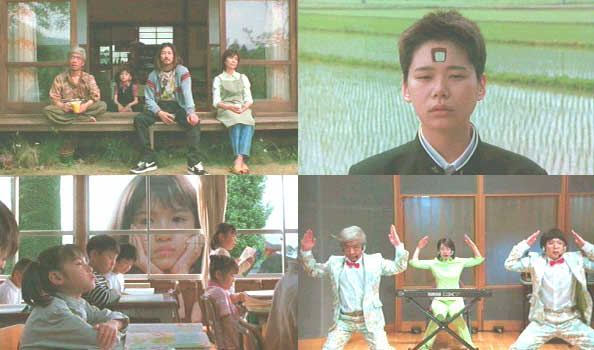 ---
Crying Out Love, in the Centre of the World
I wonder why it is that only Asian filmmakers can make straight out romantic tearjerkers anymore. The West used to be pretty good at that sort of thing, but our film sensibilities have become so filled with irony and cynicism that it's hard to imagine a Hollywood or independent director making a film like this one in fear he would be laughed at by his peers. In Asia, it's still considered an art form - the ability to make the audience cry and this is a cryfest deluxe. Based on one of Japan's biggest selling novels - then made into a hit TV series and now it was one of Japan's biggest theatrical hits of 2004 with over $82 million in tickets sold (only "Howl's Moving Castle" did better as a Japanese film). Clearly, the Japanese still like to sob in the theater. The story is fairly simple - Saku is on the verge of marrying Ritsuko when he finds a note from her that she has left to go to their hometown. He follows her there only to be submerged in painful unresolved memories for his first love, Aki. The film traverses time back and forth between the first love and Saku finally coming to grips with it. For this sort of weepy, it is surprisingly effective and well made.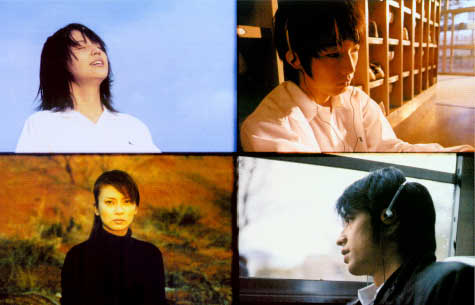 ---
Korea
One has to hope that 2004 was just Korean film taking a breather before it once again kicks itself into gear with some innovative films that have at least a modicum of courage. So many of the films from 2004 felt like they weren't even trying to be original and were happy to be mediocre mainstream films that were simply following trends set from previous years but with little of the inspiration. Thus you get a littering of comedic films like "100 Days of Mr. Arrogance", "Everybody Has Secrets", "How to Keep My Love", "Lonely Rivals", "Mr. Handy", "S Diary", "Spy Girl", "Mokpo, Gangsters Paradise" and "Too Beautiful to Lie" that feel like cookie cutter projects that would have trouble making the town idiot laugh. As much as I loved "My Sassy Girl" from a few years ago, its popularity has had a deleterious effect on an industry that continues to pander to it. Other films like "Fighter in the Wind", "Spin Kick", "When I Turned 9" and "Hypnotized" are marginally better but nothing to get excited about. Horror films were again a staple and though I enjoyed some of these such as "Bunshinsaba" and "The Ghost", they were far from nail biters and a few were downright stupid – "Doll Master" and "Face".
One worries (hopefully needlessly) that the bloom has come off the Korean New Wave and that studio caution has set in. There are still a number of films I need to see – primarily "3-Iron", "Low Life", "Woman is the Future of Man" and "My Little Bride", but I did manage to catch 33 of them. Here are some solid films that I won't comment on except to say I enjoyed them – "Dance with the Wind", "R-Point", "Windstruck" (ya, I know but it has Jeon Ji-hyun in it and I can watch her for 90-minutes any day of the week and yes I know this lasted over two hours!), "The President's Barber", "The Big Swindle" and to a lesser degree than most people "Taegukgi" which suffered from excess melodrama in my opinion but was a huge box office success. Here though are my top five favorite Korean films from the year – mainly small little films that managed to touch me.

---
Arahan
The exception would be this one – it didn't touch me but it had a high fun quotient. This is a frivolous empty-headed action film filled with Matrix like themes of "The One" and as many wires too, but it speeds along like a whirlwind and never takes itself very seriously. A clumsy and inept policeman comes into contact with a family who have mystical martial arts skills and they recognize that he may have some amazing potential if only his chi can be unclogged (somewhat similar in theme to "Kung Fu Hustle"). He isn't all that interested except for the fact that one of the teachers has a lovely daughter and this gives him an opportunity to make contact with her – literally. Then the bad guy shows up and he is like a devil from Hell and only The One can save the world – who could that be I wonder? It is all as predictable as one, two, three but still a lot of light airy fun.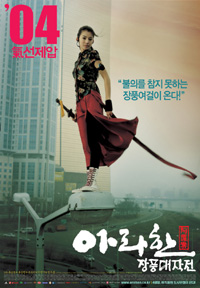 ---
A Family
This wonderful drama snuck in under the radar last year and it is a shame because it is a terrific film on all counts. This is about a young woman who gets out of prison and tries to re-establish her relationship with her ex-cop father and kid brother while her ex-partners in crime have other nasty plans for her. I found it emotionally moving, well acted and it has a knockout punch that you may see coming but can't avoid. It also manages to avoid becoming excessively melodramatic as it keeps its emotions restrained and this makes it just that much more powerful.


---
Samaritan Girl
Kim Ki-Duk's work can often be harsh, cruel and misogynistic – but here he manages somehow to be almost ethereally tragic and emotionally painful. With a plot that might seem to embrace exploitation – teenage prostitution and revenge – he instead explores karma and guilt that feels like a kick in the stomach by the end. Two girlfriends embark on a scheme to make some money for a trip by having one of them sell her body to men while the other stands lookout for the police or for trouble. One of the girls dies and the other tracks down the men who her friend had slept with and in turn sleeps with them and returns their money. Her father learns of this and tracks down these men too with a very different agenda in mind. The sense of loss, guilt and anger hurts like a knife wound.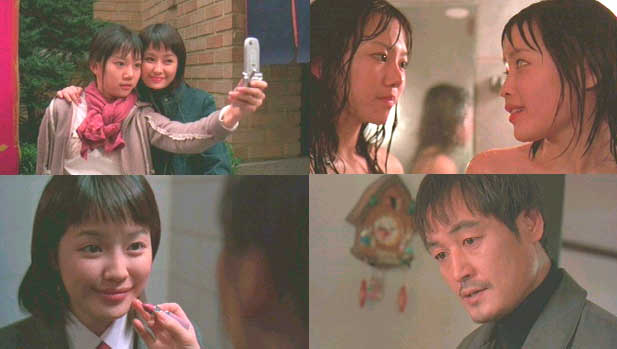 ---
Spider Forest
Moody and enigmatically confusing are the words that come to mind when thinking about this film. In a sense it is similar to "A Tale of Two Sisters" in that the director intentionally obscures the narrative and forces the viewers to piece it together themselves if they can. And like that film, you will find yourself thinking about it long after it is over. A man finds his girlfriend and another man murdered in an isolated house in the forest and when he sees an intruder he chases after him but is knocked out in the ensuing tussle. Though badly injured, afterwards he attempts to piece together the events in order to track down the killer, but his own dark thoughts from the past come colliding into his consciousness and soon dream and reality become almost the same thing. The film is beautifully shot from its opening image to the end and this mystical film noir will slowly eat its way into your dreams.


---
Someone Special
Of all the seemingly hundreds of Korean romantic comedies that spilled needlessly over into theaters during the year, this is the only one that felt genuinely off beat and amusing to me. The main story in itself is perhaps no great shakes when it comes to originality – two lonely people seem destined for each other even with more roadblocks in their way than an Iraqi highway, but it's the little things in this film that make it so charming and sweetly endearing and at times downright funny. Actress Lee Na-young again resumes the slightly dorky but lovable persona from "Please Teach Me English" and is just as appealing here. She is in love with a guy who has learned from his doctor that he has a few months to live, but he has no idea how she feels about him and doesn't give her much thought. The stuff of day time soaps – no, not really – this is a comedy and it plays out like one as he decides to finally do what he wants to do – play baseball – and she does what she wants to do – get her man.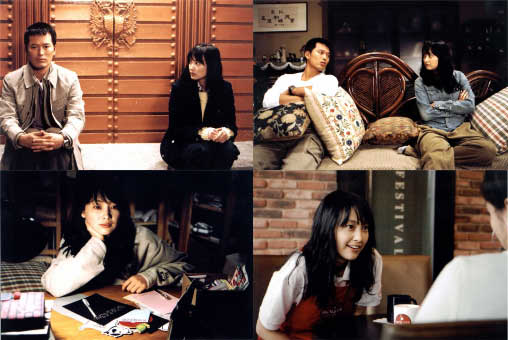 ---
Thailand
Thailand had an interesting year though many of these films have just recently begun to appear on DVD and some unfortunately without sub-titles. There weren't any blockbuster films that got Western fans excited in the same way as an "Ong-Bak" or a "Tears of the Black Tiger" but there were a number of smaller films that are very solid and showcase some young directors that speaks well to the future of the industry. Their commercial big guns were primarily absent this year – nothing from Nonzee Nimibutr, Pen-ek Ratanaruang or Prachya Pinkaew and most amazingly a film from the director of "Tears of the Black Tiger", Wisit Sasanatieng came out and was barely noticed outside of Thailand until it arrived on DVD ("Citizen Dog" without subs). Here are some of my favorites from the year.

---
Born to Fight
If you watch a film and spend much of the time worrying that someone must have been killed doing the things they do it is probably not really a good thing but the action and stunts in this film are so mindbendingly insane and fun that you just can't close your eyes for a minute. It is not as physically impressive as "Ong Bak" was, but it feels much more dangerous. A group of athletes are visiting a small town when it is taken hostage by an army of bad guys. Though initially they remain passive when they learn that these bad guys mean to blow up Bangkok they take matters into their own capable hands and the entire village down to the children get into the act – crazy but extremely entertaining in the most basic way.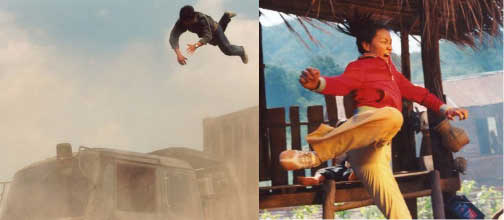 ---
Shutter
Long haired female ghosts looking for revenge probably need to be put to rest very soon, but this recent take on the theme hits a lot of the right buttons and was a scare sensation in Thailand. A couple thinks they hit a woman in their car but decide to hightail it away rather than help her. Strange things begin happening soon afterwards and friends begin killing themselves – is it connected to the hit and run accident or something much darker from their past. It is low budget but manages to creep you out from time to time and contains a terrific ending that has a certain sweet justice to it.


---
Zee-Oui
This film's structure is an interesting one – it first tries to engage your sympathies for the protagonist by showing how rotten his life has been and then asks you to judge him as he cracks up and begins killing and eating little girls. They do make the best soup I understand. Played by a Chinese actor, Tuan Long, in terrific straight-faced hangdog fashion, the film tells the story of a man who comes from China to escape the horrors that were taking place there at the time in the 1940's and finds a different kind of horror waiting for him in Thailand. Here he becomes a second-class citizen and is forced to take on menial work and undergo numerous insults and humiliations. He discovers a certain hunger in him that he thinks will make it all better. This is based on a true story.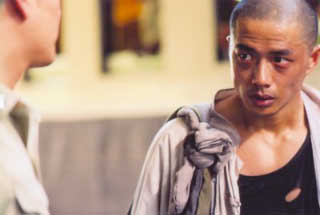 ---
Beautiful Boxer
This true story about a young man who wants to become a woman through surgical means and finds the money through professional Thai boxing might not seem to be the stuff of the multiplex in the United States, but astonishingly it plays in a few of those here in New York City as I write this. Perhaps this speaks to the changing habits of the American filmgoer or is simply a testament to what a fine film this is. It's simply about going after your dreams and having to bear some pain to get there and that's something we can all identify with. The film plays down the "aberrant" sexuality to not really offend anyone and actor Asanee Suwan plays Nong Toom with such teddy bear lovability that you root heart and soul for him to be the woman he wants to be. The film also had the best tagline of the year "He fights like a man so that he can be a woman".


---
Bangkok Loco
This is comedy on speed – blink and you will miss a parody, a pratfall, a wink, a song or a sight gag. There is a plot in there somewhere but there isn't much need to pay attention to it – something about a cosmic drum contest to determine "The One" – but it is primarily an eye-popping surrealistic gangbang of colors and motion that will have your head spinning. There are times where you feel it's almost too much for your brain to process and you want it to slow down for a minute, but it rarely does. Think the Monkees at 4 times the speed.


---
P (PII)
I am not sure whether this really can be considered a Thai film since the director, Paul Spurrier, is British but it takes place in Thailand, has primarily Thai actors and is spoken nearly all in Thai – but this is a really good film and I wanted an opportunity to mention it. Shot on what I assume was a small budget, it manages to look quite good and have a few nifty special effects. Dau is a young woman living in the provinces where her Khmer ancestry has made her unwelcome to her neighbors who think her family have witchcraft skills. They are right. When her grandmother gets sick, Dau is recruited to go to Bangkok to find a job and when she gets there she discovers this job is working as a bar girl. The first half of the film is a strange drama that at times tears at your heart or has you laughing – but then Dau decides to use some of the tricks her grandmom taught her like having a snake bite a man's penis and soon the film turns into a bloody little horror film as Dau finds her dark side and can't keep it under control.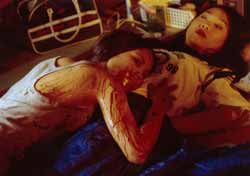 ---
China
In truth the films from Mainland China are still a mystery to me. There are a lot of films coming out of there that are getting lots of festival play but I just haven't had the time to keep up with them nor really the inclination yet. There were two films though from last year that is starting to make me more curious about Mainland films.

---
Baober in Love
This is absolutely whimsical and magical for much of its running time until it takes a decidedly wrenchingly tragic turn that makes your body go numb. This "Amelie" like tale of love and possible insanity is wonderfully inventive and visually delightful from the first comic absurdist moment. Baby (Baober) falls madly in love with a married man and eventually he returns this affection and they fall into a surrealistic love affair that is near fantasy in its approach, but then darkness sets in and you may want to anchor your heart firmly in place.


---
Kekexili, The Mountain Patrol
In near documentary fashion this film relates some true events that took place in Tibet in the early to mid-90's. Poachers are killing antelopes by the thousands to be sold for their pelts to the West and they are in danger of becoming extinct there. A mountain patrol is formed to protect the antelopes and to capture the poachers. This is their story. Filmed in the beautiful stark mountainous Kekexili region, the landscapes are awe-inspiring but the story is devastating as the patrol finds it nearly impossible to guard this national treasury and come across horrendous slaughter sites of dead antelopes. A journalist goes along on one particularly dangerous patrol and he relates the story – it turns exceedingly deadly for the patrol because of the fierce elements of the land and because the poachers are only too willing to turn their guns on them. This isn't a cheerful film by any means. As a side note - the DVD from ACE forces you to be a speed reader if you are dependent on English subs.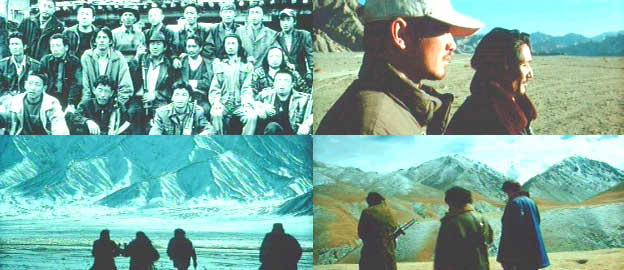 ---
Philippines
Gagamboy
Spiderman, Cutie Honey and Zebraman aren't the only super heroes around; the Philippines have their own as well – introducing Gagamboy! This very low-budget take on Spiderman is more comedy than action and adventure – in fact there is very little of that – but it's a lot of fun and any movie that battles a giant cockroach is good by me. In the slums of Manila Junie doesn't have a lot of ambition other than outwitting his annoying co-worker Dodoy and getting the attention of the beautiful and buxom Liana, but he isn't having much luck with either. Not until he swallows a polluted spider and begins gaining amazing powers – but as the saying goes "with great power comes great responsibilities" and he becomes the hero of the barrio. Then Dodoy accidentally eats a cockroach and all hell breaks loose. The silliness here is totally contagious and loads of goofy fun that should bring out the kid in all of us.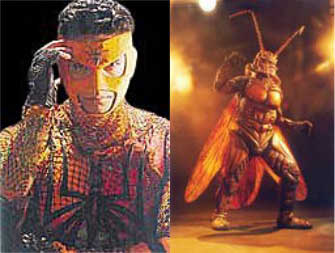 ---
Keka (2003)
Keka's boyfriend gets killed by a group of upper class frat boy types and none of them are brought to justice. She stews on this for years until she finally decides to take justice into her own hands – by killing them one by one in delightful fashion. After years in a humdrum job at a call center, she begins to realize just how satisfying this is and discovers the joy of being good at something. This was a surprising delight when I saw it last year with its infusion of black comedy, murder and song and dance numbers. It pokes fun at Filipino melodramas and much more as Keka finds new love and old enemies.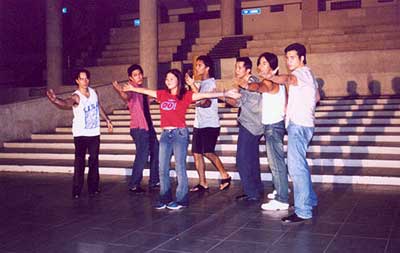 ---
India
I didn't see a lot of the films that came out of Bollywood this year and most of what I did see didn't really excite me. There were a number of big budgeted highly publicized films that were released but in general I found them just too middlebrow and uninspiring. Many of the more popular films like "Veer-Zaara", "Hum Tum" and "Swades" were colorful glossy fun with high profile casts but seemed eminently forgettable to me as soon as I was done watching them. Here are a few though that I quite enjoyed.

---
Main Hoon Na
This may have been the most fun I had watching any film in 2004. It takes nearly every Bollywood convention and affectionately pokes fun at them in a film that is filled to the brim with action, romance, songs and corn. Shahrukh Khan goes undercover at a college to protect a girl from terrorists and manages to romance a teacher, become a hero and stop the terrorists – and never breaks a sweat. Farah Khan who has been the number one choreographer in Bollywood for years finally tried her hand at directing and gives us something very fresh and jazzy. It has everything you want from a Bollywood film – great musical numbers, the charisma of Shahrukh, sweet romance and some over the top action scenes – but she never allows it to feel conventional and overlays everything with some perfect tongue in cheek inside humor. And lets not forget the wonderful playful style of Sushmita Sen and the perfect stomach of Amrita Rao. It all works perfectly.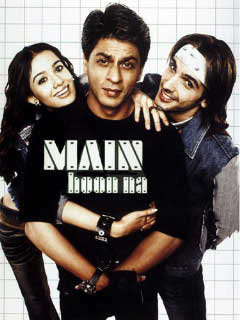 ---
Chameli
This wasn't a typical Bollywood film even though it did have a few musical numbers as it straddles the worlds of Bollywood and their parallel cinema and creates a wonderful hybrid. The often-arrogant Kareena Kapoor decided to take on the very surprising role of a low class street prostitute and not one really with the proverbial heart of gold – though she isn't as rough as initially projected either. Into her sordid life comes an upper class gentleman who gets stranded on the same bit of dry ground as a deluge sets in. As the hours pass, they slowly talk and break down a few class barriers and then when trouble comes in the form of an angry pimp they bond together to get through the night alive. The performances are terrific, the cinematography lovely and moody and it's only 105 minutes! It is a nice introduction to Bollywood for those afraid of a three-hour film.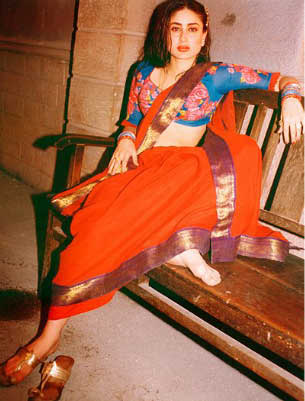 ---
Ek Hasina Thi
Out of the Ram Gopal Varma school of new directors, this film eschews musical dance numbers and settles for a grim, raw female revenge tale that satisfies on all levels. Urmila Matondkar also eschews all glamour in one of her best most intense roles ever (another one to catch her in is "Pindar") as she plays a naïve single woman who falls for the wrong man and ends up framed and sent to jail. At first she naturally is completely outside of her world and is terrified by other female prisoners and the giant rats that infest the place – but she learns to cope and to get razor edged tough because she has a goal. A simple one. To get out of jail and find the man who did her wrong. Does she ever!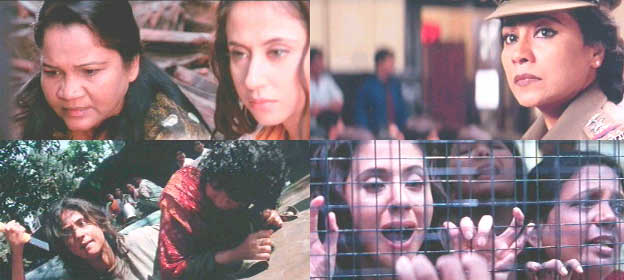 ---
Khakee
This isn't a very smart film, but it's quite fun in a very traditional action sense – sort of like the old westerns in which the wagon trains had to pass through hostile territories and they were all on their own. In this case Amitabh Bachchan is a cop near retirement age and stuck in career limbo. He gets an assignment to transport a dangerous criminal to another city but for reasons unexplained it has to be over land. He takes with him a few men he thinks he can trust and a beautiful witness (Aishwarya Rai) and the bad guys headed by a sleepy looking Ajay Devgan seem to always be one step ahead. The film has a few excellent action set pieces and a couple nice twists, but even in the heat of danger they still find time to sing and dance!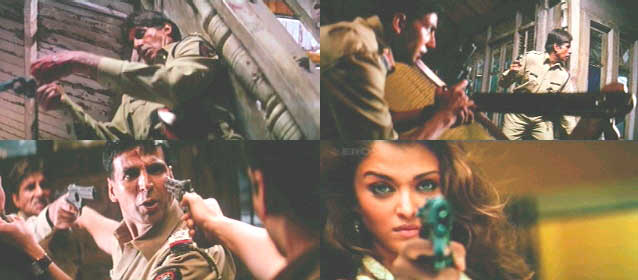 ---
Yuva
This film from the great Mani Ratnam is an explosive political potboiler that contains a few exceptional performances from some of the top Bollywood stars. It tracks three men and the women who love them – Ajay Devgan as a political activist, Vivek Oberoi as a young college graduate with no particular goals in life and Abhishek Bachchan as a lower class thug who is paid by corrupt politicians to break up any attempts to reform the system. Their women are Esha Deol, Kareena Kapoor and Rani Mukerjee. Their worlds all come colliding together on a bridge one day in an assassination attempt and we backtrack to find out how life brought them there. Both Abhishek and Rani are particularly amazing here – Abhishek with his raw rage at the world and Rani as his wife who tries to understand him and his furies.


---