---
Top 10 and Comments from Michael Thomason
---
Hong Kong Cinema 2005 Overview
Being perhaps the only foolish foreign individual (herein) to exercise a hitherto unjustified dedication (some might suggest madness) to Hong Kong cinema for the calendar year of 2005 by way of committing to viewing as many of the region's film productions as humanly possible, my spin of the Top Ten and year in review is somewhat a radical departure from that of my peers. Having engaged film from the Special Administrative Region for near on twenty years now, I'd be hard pressed to assess the year past as a "bumper" year for Hong Kong cinema; indeed, come reflection time I was doubly pressed to amass a collective Top Ten. In the longeurs between productions that would stir my innate passion for the industry I have long championed I have to admit that I found myself on many a nostalgic jaunt into the past, revisiting past classics and (finally) catching up with titles I had previously passed over in favour of the "new face" of the region's film industry. Out of that bent I came to determine that 1989 was a sterling year in the region's cinematic output, but that realistically is a story best addressed at another point in time; as too was the manner in which I strayed further afield towards Thai and South Korean cinema this past year.

2005 kicked off in very low-key style, with the William Hung starring opus "Where Is Mama's Boy" (hardly the worst Hong Kong film ever made, but in its "mo lei tau" idiosyncrasies maybe one of the more dated productions of recent years) and the CG cartoon "Dragon Blade" which, technological advancement that it was for the region, played out like a videogame and held about as much interest for this non-gamer thirty something viewer as that description belies. Maybe it might have held the interest better of the Chinese tykes it was clearly aimed at? The first bonafide Hong Kong film of the year, James Yuen's "Crazy N' The City" drew vast online accolades, but of myself I found it to be more of the same amongst Yuen's canon of screenplays as well as more than a little reminiscent of his Sandra Ng/Anthony Chan romantic comedy of 1991, "Changing Partner". It was a good film, assuredly, but its subject matter remained more than openly familiar to anyone even peripherally conversant with Yuen's previous screenwriting credits.

Chinese New Year presented prospective viewers with a further sense of deja-vu, excepting of course Kenneth Bi's Hong Kong-Singaporean co-production "Rice Rhapsody" (which languished in the vaults at JCE, having debuted in its home territory in 2004, belated making a cursory CNY appearance). Deja-vu came in the form of Wai Ka Fai's diabolical "comedy" "Himalaya Singh" – which, I suspect, pre-release allegations of racial insensitivity may have been a calculated publicity stunt to attract cinemagoers to see it once the final cut was delivered and China Star became nervous over its box office prospects – and the sequel to 2000 CNY hit "Tokyo Raiders" in the form of "Seoul Raiders", a production engineered to tap into Hong Kong viewers' topical affectation towards all forms of entertainment South Korean. "Himalaya Singh" proved a scourge to all involved, blighting the memory of Wai's previous year's CNY outing "Fantasia", and "Seoul Raiders", though enjoyable at a popcorn level, was a mere shadow of Jingle Ma's previous instalment. The season was rounded out with "PTU File: Death Trap", an obvious pilot for a TV series that should never have strayed beyond its video roots.

Come March, we had "Slim Till Dead", a Wong Jing produced thriller that harkened back to Hong Kong's exploitation highs of the nineties albeit in decidedly tamer fashion, inline with appeasing the censors of its further Mainland market; the quite wonderful, and well-grounded "It Had To Be You" (see below); the, in my honest opinion, dreadfully overrated "AV", whose central thematics (disenfranchised youth struggling against the memory of the causes of their predecessors, and pornography – an online obscene "object d'art" that plays zero importance in my daily life) failed to connect with me on any level; the fun throwback to eighties Hong Kong horror that was the Pangs HK-Thai co-production "The Eye 10"; and late month high-finishers "House of Fury" and "Colour of the Loyalty" (see below). April kicked off in excellent form with Marco Mak's surprisingly entertaining crime thriller "Set To Kill" (which almost made my Top Ten, but was sadly nudged out by some late finalists – that's a thinly veiled recommendation, in case you missed it); peaked with my movie of the year "2 Young" (see below); and closed in arbitrary fashion with Benny Chan's flawed noirish thriller "Divergence", whose major stumbling block was the excess of melodramatic machinations foisted upon protagonist Aaron Kwok (and his blatant, award-nominated, overacting therein).

The less said about May, the better. Though debuting Milkyway partner Dennis Law's "The Unusual Youth" connected with me at so many levels due to its provincial, rural aesthetic (making it a Top Ten finalist), Vincent Chui's "Fear of Intimacy" proved a modest, arthouse mediatory ramble, uber-hack Tony Leung Hung Wah's "Demonic Flash" the very repugnant drivel he is renowned for, and the very idea of Johnny Lee's Sammo Hung starrer "Legend Of The Dragon" remains so unconscionable to me that I have determined never to allow it to violate my viewing schedule (indeed, online US retailer HKFlix noted the film as "so bad, it doesn't even seem possible that it was made by human beings")! June commenced with the shelved-since-2003 Billy Chung thriller "Set Up", which was awful beyond words, soldiered on with Wong Jing and Billy Chung's latest gambling comedy "Kung Fu Mahjong" (enjoyable for what it is) and ended on a high note with Andrew Lau and Alan Mak's "Initial D" (see below). July opened well for me, as I'm a great fan of new comedy heir-apparent Ronald Cheng, with "Dragon Reloaded" (see below) but failed to keep up the momentum. Law Chi Leung's "Bug Me Not!" would probably be grand entertainment for undiscriminating Cantonese-fluent children, but for an adult in his late thirties it was an abominable exercise in tedium. Tsui Hark's return to the big screen, "Seven Swords"…well, even at two and half hours it is a long, rambling and unfocused adventure epic made bearable by a smattering of amazing action setpieces. My mind boggles at how anyone could wish to see more of it (being that online voices bought into the notion of a longer, four hour pre-release cut) and, like many of Tsui's latter day productions, not one I'll be rushing to revisit.

As the year rolled on, Wong Ching Po's "Mob Sister" turned out to be exactly what I had suspected it would be post his self-indulgent and over-inflated "Jiang Hu" (2004), and that end result was an unmitigated disaster. Easily the very worst Hong Kong movie of the year – I pray that Wong either goes back to film school or at very least is refused funding until he is conversant in basic filmmaking theory. Derek Yee gave us a light, commercial romantic comedy in the form of "Drink Drank Drunk" with the always effervescent (and personal favourite) Miriam Yeung, but it wasn't half the film "2 Young" was before it (but hey, it was just a romantic comedy and good of its genre). Media Evangelism's "New Born" came and went silently for me, as my beliefs refuse to entertain the ideal of having organised religion forced down my throat, as did Tony Leung's "The Wondrous Bet" since life is too short to spend it watching unparalleled crap. Billy Chung's "Moments of Love" closed off August in soft-boiled fashion indeed. Come September, though it garnered its detractors, Jackie Chan's "The Myth" made my Top Ten (see below), Stanley Kwan's "Everlasting Regret" was the dour and morose introspection I've come to expect of him (as well as forced its star, Sammi Cheng, into seclusion on the back of hostile critical reaction) and Teddy Chan's "Wait 'til You're Older" (see below) clamoured for a top spot, much to the chagrin of my peers.

Johnnie To's "Election" failed to excite me the way it did for many, its story too trite and simplistic (in short, it's about two mob bosses trying to find a stick), and its execution far too flat for my tastes – not to mention Tony Leung Kar Fei's character being played so overblown as to end up becoming a caricature of itself. Daniel Yu and Lee Kung Lok's "All About Love" was a solid piece from the sometimes scattershot directors, and I had little of the qualms with the Andy Lau-doppelganger motif that many objected to but, like "Everlasting Regret" prior and "Perhaps Love" after, it's central themes were just too sullen and depressing for me. Good, but hardly upbeat entertainment. Soi Cheang delivered another solid horror/thriller with "Home Sweet Home" (marketed as "Koma 2" in surrounding Asian regions), but I really feel Cheang could do this kind of film now in his sleep and would prefer to see him engage something that challenges him as a director instead; it was effective but I'm starting to wish for more. November's low-key commensurate titles, Mainland co-production "Curse of Lola" and returning director Chan Wing Chui's (under the new moniker of Ah Chui) "A Side, B Side, Seaside" tapped into the arthouse set and only moderately succeeded on both counts (per "A Side etc" – if I hear one more lyricless "la-la-la" theme-song in a Hong Kong film I will scream; however, the film itself was moderately engaging). Daniel Lee's "Dragon Squad" (see below) surprised the pants off me, after witnessing its leadenly underwhelming trailer, gaining the accolade of action film of the year for me.

As at this writing, I've thus far missed Matthew Tang's "b420", but Edmond Fung's "Futago" was a surly, arthouse cross-pollination of Japanese and HK horror that disturbs whilst viewing but ends up being largely forgettable post-viewing. As for Wilson Yip's "SPL"…I'm on my own here in that I found it mostly entertaining but a little too much of a throwback to eighties action cinema. Donnie Yen's action choreography is, as always, extremely self-referential, evoking deja-vu with past works (herein "The Twins Effect" and "Blade II") at every turn, and the overall style came over akin to Yuen Woo Ping's far superior "Tiger Cage" (1988). Nostalgia is good, but it has its place (be that in the past) and I don't feel Yip's film was a particularly positive step forward for Hong Kong cinema in its goal to survive the New Millennium. It's a good action-thriller, but it's far too entrenched in the past and as a result dates itself without intentionally setting out to do so. At the tail-end of November, Wong Jing's rushed sequel "Kung Fu Mahjong 2" was more of the same per its predecessor, albeit on a smaller budget and with Cherrie Ying substituting for Roger Kwok. Good, bad, it didn't matter – it was more of Wong's patented popcorn cinema and a laugh to boot; good, light, (largely) inoffensive entertainment and predominantly a very easy watch.

And so, the year ended with Peter Chan's Hong Kong-Malaysia-China musical "Perhaps Love", a film that drew acclaim abroad and from notable international film critics (as well as boffo box-office in the Mainland), but once again ultimately proved too morose and sullen for this viewer. The musical setpieces seem to be desperately attempting to invoke the spirit of Baz Luhrmann, and the primary narrative is just emotional murder to sit through (one feels like screaming "just get over it and move on" at the screen towards its central characters). High production values alone does not superlative entertainment make. To be trite, the songs are nice though. Late runner, Jeff Lau's third and final entry in his "Journey to the West" trilogy (originally conceived as the third part of the Stephen Chow "Chinese Odyssey" films but shelved once available technology was deemed under-developed) "A Chinese Tall Story" swept my feet right out from under me – akin to some of the films from the past year, it's a throwback to days past but given a fresh new modernistic spin. Initial impressions, drawn from the broad comedy on display, soon gave way to a complete sense of awe and I allowed myself to be carried way with Lau's extravagant fantasy. For me this elaborate SFX opus capped the year on a high note, and I can only hope that through the coming year (2006) Hong Kong cinema forges outward in similar new directions. It was hardly a great year for the region's cinematic output, but some of the final quarter's productions really gave me hope for the future – and as of this writing, some hope of future brighter developments is better than none at all.

Footnote: Though I trust my peers on their mathematical abilities, I am still pondering where the magical count of 55 titles produced in Hong Kong for the calendar year of 2005 actually originated from? By my own tally, I was only able to attribute 35 titles to the region as genuine Hong Kong productions (two of which, "Futago" and "Set Up", were produced in years prior to '05 and released posthumously). There were 9 productions that were made with the collaboration of Mainland Chinese investors and studios (inclusive of one, "Where Is Mama's Boy?" which was produced in '04, and another, "Perhaps Love", which was a joint collaboration between Hong Kong, Mainland China and Malaysia). There were additionally 3 productions that originated from outside of the above demographic, being: "The Eye 10", Hong Kong-Thailand, "Seoul Raiders", Hong Kong-South Korea, and "Rice Rhapsody", Hong Kong-Singapore (which also holds the distinction of having been released in outlying territories as well as screened internationally in '04). Excepting all these factors, I came up with the grand total of 43 productions (inclusive of Mainland Chinese collaborations) for the full calendar year of 2005. 43…that's less than one a week and a far, far cry from the glory days of years gone by.
Titles not seen: b420, China's Next Top Princess, The House, Moonlight In Tokyo, New Born

---
Top Ten
10. The Myth/The Unusual Youth - (Herein lies my cheat, as I didn't want to preclude either of these films from my Top Ten!)
Jackie's sprawling, internationally-flavoured adventure epic "The Myth" was more than enough, with its colour and energy (as well as jarring gobs of gore from usually family-focused Chan), to keep this latter-day Chan fan entertained. Undeniably, part of that attraction was the magical locations and vistas on display (inclusive of the striking Mallika Sherawat), but the "Armour of God" styled adventure kept me engaged, and Messrs. Tong and Chan even managed to wrest some emotion from me come the gushing fantasy finale. Easily Jackie's best work since…well, his last Hong Kong outing, "New Police Story".

As for Dennis Law's "The Unusual Youth", as I originate from rural coastal origins myself it's not hard for me to connect with a small-scale, intimate ensemble piece like this set, as it is, in the rural coastal fishing enclave of Cheung Chau island. No matter how far I come in life, I still harbour fond memories of my upbringing and the myriad messages in Law's film truly touched a nerve with me as well as elicited fond memories of the past (and, in indirect ways, the present). Perhaps not a film that will strike a chord with city dwellers or suburbanites, but for those who harbour the same roots as myself its appeal is timeless and transcends cultural barriers with ease. A true minor gem of the 2005 release year.

---
9. House Of Fury
Though he never made much of an impression on me as actor, as a director Stephen Fung has positively leapt from strength to strength in only two and half short films (if one includes his seminal short contained in 2001's "Heroes In Love"). Where "Enter The Phoenix" wore its heart on its sleeve, mashing up martial arts stylings with its positive message of its focal hero coming to terms with both himself and his place in the world, "House" responds to the age-old Chinese ideal of family and all that that idiom engenders. There is much fun to be had in between the film's many wildly over-the-top action setpieces, be it Anthony Wong's veiled super-spy or Michael Wong's Blofeld-inspired villain, but at its core Fung's film is boldly and uniquely Chinese in its aesthetic and more importantly its cultural identity. A nice surprise – with wire fu!

---
8. Dragon Squad
Widely criticised as a product of the Michael Bay-bombastic action cinema machine, Daniel Lee's action thriller is, akin to Stephen Fung's "House Of Fury", a domestic production with its sights set squarely on the international set but fixated within its Chinese origins. With rapid-fire editing, glossy visuals, and a sound-mix that is a genuine aural assault, "Dragon Squad", for me personally, was overflowing with the vibrance and energy that I felt was sadly lacking from Wilson Yip's much-acclaimed "SPL". Modern Cantopop idols raise my ire not one iota, and Michael Biehn may very well be the best Caucasian villain Hong Kong cinema has ever been afforded (whilst his partner, South Korean actor Heo Jun-Hoo was a perfectly ice-cool foil for Biehn's larger than life spectacle). Though some of it stretched plausibility to its limits (for firepower expended in the finale was highly improbable), what Hong Kong action film doesn't fall victim to such excesses? Best action film of 2005.

---
7. Dragon Reloaded
Being that I loved the first adventure of Ronald Cheng's Lung Wai character, it seemed a fore-drawn conclusion that I was at least going to enjoy, even modestly, the sequel. What I didn't expect was enjoy the second film even more than the first! Drawing most of the original film's cast back together (Cheng, Sam Lee, Cheung Tat Ming and Patrick Dann make for a highly amusing entourage of larrikins), the sequel sets itself apart by going the route of the small-town, provincial comedy (can you see a theme here?) and engages all of the hijinks that such a mindset might employ. As the heir-apparent to Stephen Chow's mo lei tau crown, Cantopop hero Ronald Cheng is a more than a welcome face to me with each new year's comedy offerings. From the opening strains of Cheng's catchy "Rascal" theme song, to silly "PTU" reference during the epilogue, "Dragon Reloaded" kept me in equal states that wandered between a knowing snicker and outright loud laughter, of which I couldn't ask for more of a comedy.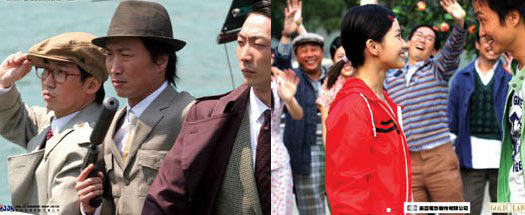 ---
6. Colour Of The Loyalty
Where others appraised Wilson Yip's "SPL" and/or Johnnie To's "Election" as the crime films of the year, Wong Jing and Billy Chung's dark and brutally violent exercise in fatalism ended up being the one to beat for me. Surprisingly, it remained at the head of the class in its genre for the remainder of the year. What held it in higher esteem for me, over its contenders to the throne, was its solid, well-mapped out story, a lightning pace augmented by tight editing, some strong performances and raw emotions from its ensemble cast, jarring bone-cracking violence unseen since the more heady days of Hong Kong's former crime-dramas, and a breathtaking double-hit climactic twist that acted as a grim, visceral punchline to all that preceded it. Some say Hong Kong doesn't make films like this anymore, but Wong and Chung's film is living, breathing proof that it most certainly does.

---
5. Initial D
I have to admit; I put off watching this Andrew Lau and Alan Mak comic-to-screen adaptation until way late in the year, and promptly questioned myself as to what on earth I was doing by doing so once I had! Far better executed, and perhaps marginally more intricate that I had imagined it would be, Lau and Mak's film was rife with all manner of eclectic characters, trials and tribulations, high drama and markedly low-key (yet vast) CG; and it kept me watching right until the very end as well as scored extra points for its sting-in-the-tail refusal to supply a saccharine "happy ending". When Chapman To entertains, and the very notion of Anthony Wong literally "sleep-walking" through a role amuse, I'm on the sure-fire road to and out an out winner (and I don't even read comics, let alone care for how accurate a take this was on the Japanese comics it originates from). The film scores bonus points for Taiwanese pop-star Jay Chou delivering the most nonchalant, laconic racing style in cinema history.

---
4. Wait 'til You're Older
There is much to said for a production that lifts a tried and true formula (Penny Marshall's "Big") then runs with it and refuses to play by the rules. The part of Kwong, the little boy who so desperately wants to be an adult so as to run away from his pre-pubescent woes, is tailor-made for Andy Lau, Hong Kong's very own Peter Pan of their entertainment industry. Past the age whereby most sensible Hong Kong entertainers have retired (40), Lau herein displays an unequivocal depth in his performance as well as exhibits the fruits of the tremendous learning curve he has undertaken since entering the field in the eighties. Sure, it overstates its message in broad, melodramatic brushstrokes, but it never once failed to evoke the very emotions that it set out to draw from me. The narrative's cruellest lesson is that once the path to adulthood has been engaged, there is no turning back – and I applaud the filmmakers for not pulling punches on that narrative arc. There are lessons to be learned along the way, as well as the revelation that not all is what it sometimes appears to naïve eyes, but the journey is a bittersweet one and the film a powerful tearjerker unsurpassed amongst the year's output bar one.

---
3. A Chinese Tall Story
As noted above, originally conceived as the final instalment in Jeff Lau's previous "Journey To The West" re-imagining but left shelved until film technology had caught up with the tale he desired to tell, "A Chinese Tall Story" is old-school Hong Kong cinema given the thoroughly modern makeover. Dispensing with much of its source material (Wu Cheng'en's much-loved Chinese novel), this final tale shifts its focus onto the Tang monk, Xuanzang (or Tripitaka, essayed by Nicholas Tse) and his straying from the path of eventual deification. Initial broad comedy gives way to CG overkill, before shifting gears into the second act's romantic primary plot and onto further CG excess that would undoubtedly leave Tsui Hark's head spinning before coming to rest at a climatic melodramatic-yet-poignant wrap-up. Though it flags a little in the mid-section, and is weighed by some insane mo lei tau along the way, Lau's film has a manic, rambunctious energy and pace all of its own; much akin to a more fevered, contemporary reinvention of the "Chinese Ghost Story" formula. Many will assuredly loathe its excesses, but for me it is those very excesses that give it the wild, unfettered personality that it exhibits – and it is a personality that is often electric.
---
2. It Had To Be You
From the grandiose, to the small, Andrew Loo and Maurice Li's heart-warming, and exceptionally well-grounded, romantic comedy set a tone that few (if any) paralleled over the course of the year. Don't like Ekin Cheng or the other Hong Kong pop-stars/idols-come-acting sensations? Then you'd do best to well avoid this film – but by doing so you'll be missing one of the more magical romantic comedies of recent years, as well as passing up the opportunity to witness that romantic comedy unfold in one of the more low-key and earthy fashions seen in some time within Hong Kong cinema. Everything and everyone, all narrative paths and characters therein, come to understand the power of letting go of the past, learning from the past's mistakes and moving forward into the future, irrespective of whether or not that prospect is built on shaky ground or not. Everyone undergoes growth, most notably the viewer as they come to grow with the characters while they learn from the lessons life imparts them. Loo and Li jettison Hong Kong's usual favoured melodramatic schmaltz in favour of something far more believable, and for that they are awarded the highest place I can afford them. Were it not for Derek Yee, this would have topped the year with ease. It is nothing but a joy to watch Karena Lam and Ekin Cheng's romance unfold.

---
1. 2 Young
And on to the one film that impressed me more than any other, Derek Yee's superb "2 Young", a heart-felt drama of young love and all the unexpected consequences that can result from its blossoming. Yee, when at the top of his form, delivers incredible films, rich in writing, performances and emotions which, in any other industry, would draw him the notice of some kind of cinematic genius. But here, he simply paints a canvas that is richly textured and quite beautiful, yet sometimes painful, to watch fill with its story. Jackie's boy Jaycee Fong is great here – he's warm, earthy and wholly believable as the love struck, naïve father-to-be, and his counterpoint, newcomer Fiona Sit is nothing short of brilliant in her first major role. Strength lies in the story, and the manner in which the characters have been written, with all parties rising to the occasion (with Anthony Wong, most notably, filling his pompous characterisation with gusto). Everything works, and I found myself wanting to see Fong and Sit's characters ride out the pains of burgeoning adulthood, as well as all of hardships that go with it and the adversity they must face, to make a go of their future against the odds – and those are emotions all too rare in cinema for me these days. I can do little but offer my thanks to Derek Yee for offering up such a touching and affecting drama, grounded in a realism all too bereft in modern Hong Kong cinema as well as a newfound cinematic maturity that gives me hope for the future of the industry where others see only gloom.

---
© 2006 Michael Thomason
---
To see what films Michael saw this year, check out the ratings page.