1986 - 1989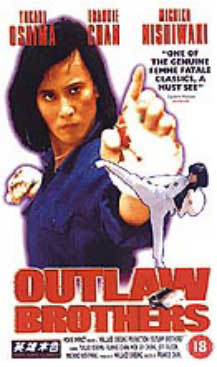 ---
(Cinema City & Films/Long Shong Picture Co. Ltd., Dir. Chu Yen Ping)
In one of her first film appearances Yukari plays an undercover Japanese criminal police officer investigating the gang led by Yamashita (Yasuaki Kurata). As in most of these Taiwanese films, slapstick comedy alternates with intense action. An absurd plot has something to do with missing bullion and a treasure map. Yamashita's gang wants it, and so do an unlikely band of heroes, including an incompetent traffic cop, his cop wannabe girl friend, and a couple of card sharks who have teamed up with an infatuated gas station owner. Some of Taiwan's best action actors provide excellent kung fu action.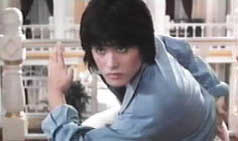 In several wonderful fight sequences a superbly confident young Yukari presents a flurry of arms and legs - seeming to defy the laws of gravity. Her physical brilliance is unaided by wires, and features some spectacular kip-ups and other gymnastics. She has three main fight sequences, including two at Yamashita's house that rank among her best. Poor editing detracts from the second. From a technical standpoint the film is quite well made, with good camera work. Unfortunately, the story isn't worth watching, even as filler between fights. One might as well just fast forward to the next action scene. Favorite line (Yukari): "You've had all the fun, now I want my turn."
A 2, B 4, C 1, D 3, E 3.5, F 1 (14.5). Fight Scenes

---
"Funny Family, The" (1986)
(Long Shong Pictures, Ltd.)
The son and daughter of feuding neighbors each leave to find their fortune in the city. In this slapstick Taiwanese comedy, they undergo a series of misadventures, but eventually find their respective mother and father (who are, naturally, living together). The father's sporting goods store faces a series of challenges from a Japanese competitor, involving bowling, football, tennis and boxing tournaments. The young couple use their kung fu skills to carry the day in each match. Yukari appears in a non-speaking cameo role as a Japanese boxing champion in a tag team match. She looks fabulous, heavily tattooed Yakuza-style, and makes the most of her few screen moments to display superb athleticism and martial arts skills. In keeping with the general tone of the movie's humor she's known as "Tempura" and the "Yellow Peril" - an example of the anti-Japanese sentiment that would follow her entire career. It is a pity that she did not sport the tattoos to this extent in her later movies.

A 1, B 3, C 1, D 3, E 2.5, F 2 (12.5). Fight Scenes

---
"Millionaire's Express" (1986)
(Golden Harvest Ltd., Dir. Sammo Hung)
Sammo Hung directs and stars in this meandering action comedy as a drifter who returns to his home town where he hatches a plan to delay a train carrying wealthy passengers so as to revive the town's economy. Things are interrupted by a large group of bandits who also descend on the town. This is a slapstick farce with a large cast,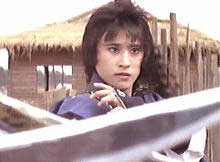 including a number of well-known martial artists and martial arts movie stars. Much of the film is essentially a collection of cameos. Yukari appears in one of her early movie roles as one of a trio of traditionally attired Japanese samurai. With impressive athleticism she kicks and carves her way through Sammo's stunt team, and after leaping through a window delivers a sword to Richard Norton's groin. Although part of a comedy, Yukari's brief appearance has all the hallmark speed and ruthlessness of her screen fighting style, plus an interesting costume. Her appearance is mistakenly credited to a male actor in "The Best of the Martial Arts Films." This may be viewed as a compliment.
A 1, B 3.5, C 3, D 3, E 3, F 1 (14.5). Fight Scenes

---
"Angel" (1987)
(World Video, Dir. Teresa Woo)
Yukari plays Madam Yeung, a stunningly evil femme fatale and smuggler of drugs and gold. This film was reportedly inspired by "Charlie's Angels" and helped launch the "Girls With Guns" genre. It features an international crime fighting team (with Moon Lee and Elaine Lui) called The Angels. While much of the film focuses on their successful investigation and relationships, Yukari's sadistic Madam Yeung steals the show. She taunts and tortures her captives in a private dungeon. Sadomasochistic allusions include lashing and binding captives, licking blood, using a chain, and piercing flesh with needles. Her men cringe in fear.

In the Cantonese language print one can clearly see the implement Yeung uses to cut off the fingers of one of her crime boss rivals. Although Yeung dies bloodily in the end, her fight scenes are crisply directed with plenty of flashy kicks. She consistently takes on two opponents simultaneously. This opaque, sinister portrayal of Yeung is one of Yukari's all-time best roles. The rest of the movie is also above average for the genre, despite rough edges and variable production quality. Watch for a glimpse of Yukari wearing a bathing suit, showing her shoulder development.

A 2, B 4, C 4, D 2, E 3, F 2.5 (17.5) Highly Recommended
---
"Angel's Mission" (1988)
(Filmswell International/Artview Investment Co. Ltd., Dir. Godfrey Ho/Philip Ko)
After Wong's (Dick Wei's) sister is kidnapped and held captive in a prostitution ring, he joins the Philippino gang responsible in an effort to track her down. Two other plot lines converge on the same target. In the first, Philip Ko plays a disloyal gangster who recruits U.S. organized crime assistance to mount a takeover of his former boss's racket. In the second thread, Yukari plays a Japanese Interpol officer investigating missing prostitutes in the Philippines. The Japanese authorities are more concerned about STDs than about the missing people. She discovers that her own mother is actually operating a call girl business in the Philippines.

Despite the implausible plot the movie has a solid cast and an adequate number of good action sequences along the way. The principal characters converge in a bloody finale. Wong finds his sister dead, and all the gang members are killed. This movie represented a transitional part for Yukari. She still had to find her pace as an actor, and tended to rely heavily on youthful physical energy rather than emotional intensity. Despite generally rather poor acting and choppy editing, this film is worth watching. As always, she plays it straight. It is interesting to note how distinctively Japanese Yukari appears at this point in her career, with very formal greetings and bowing. Favorite line (Yukari's mother, to her): "I thought you were just a plain Jane."
A 2, B 3, C 2, D 2, E 3, F 2 (14). Recommended

---
"Burning Ambition" (1989)
(Long Shong Pictures Inc., Dir. Frankie Chan)
This is a well made but ultimately disappointing crime melodrama about a Triad family conflict following the assassination of its patriarch. Yukari plays one of three siblings sacrificed by their father in this series of fights. She has very few spoken lines and a relatively brief part, but participates in a now classic bat-wielding fight together with Clare Wai (with broken glass in her feet) that starts in a Japanese restaurant and spills into the parking garage. This fight alone makes the film a must-see. The rest of the film is somewhat marred by Frankie Chan's emphasis on his own part, and a few unnecessary sight gags.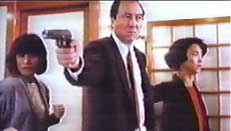 A 1.5, B 4, C 1.5, D 3.5, E 3, F 2 (15.5). Recommended

---
"Close Escape" (1989)
(Dir. Chow Chan Wing)
This gem of an action film is what all low-budget actioners should be. The plot is developed well, with unfolding twists and double crosses. There is no comedy, and good editing maintains a rapid pace. All the principal characters are well acted. Max Mok and Aaron Kwok are sympathetic and convincing heroes, while Dick Wei is a powerfully evil presence. Yukari plays both sides against each other, in a story of shifting allegiance. Most of all, the action is truly outstanding!

Max Mok plays a medical student whose older brother, dying of cancer, commits a diamond robbery in an attempt to fund his studies. After falling out with a gang headed by Dick Wei, he is murdered. Max Mok and his friends are witnesses and the actual killer is himself killed to keep him quiet. Max Mok is framed for the murder, and flees under cover. He has a seemingly chance encounter with a Japanese journalist (Yukari) who he initially takes hostage. She appears to befriend him, but is actually a plant by Wei's gang in an attempt to locate the diamonds. In the meantime a police investigation headed by Max Mok's friend Aaron Kwok closes in on Wei and Yukari. She, however, has become genuinely attached to Mok, and turns on the gang. Max Mok, in turn, dumps his loyal girl friend!

After several wonderfully directed fight scenes, they all end up in Mok's brother's bungalow. The final confrontation is among the most physically and emotionally intense fights of any on the recent Asian screen. All the major players are excellent. Yukari is spectacular and physically stunning. Yes, that's her up there close to the ceiling, and later kicking over her own head as she takes a fall. Awesome. Favorite line (Yukari): "I will do whatever I want now."
A 2.5, B 4, C 3.5, D 4, E 4, F 3.5 (21.5). Highly Recommended

---
"Final Run" (1989)
(Regent Films Ltd., Dir. Philip Ko)
"Bull" (Dick Wei) is suspected by a paramilitary group of narcotics smuggling in Thailand. The actual culprit is his sister's (Yukari's) fiancé Wan Kwok Chuen. Three corrupt HK cops, Sgt. Kau (Philip Ko), Mr. Shen, and Ma Chun Fun attempt to blackmail Ma's Customs Inspector friend Chiang Chi Nan to join them. When he refuses, Kau arranges to kill his family and frames him for the murder of Shen - who has double-crossed them. Chiang flees to his aunt in Thailand. Kau and Ma follow, and make contact with Yan Ya Yiang (Simon Yam) to arrange a drug deal and finally eliminate Chiang as well as eliminate Wan - Shen's former partner. These acts provoke Yukari and Bull to attack Yan's gang. Bull is killed. When Kau goes after Chiang, he and his cousin retaliate, killing Yan.

The threads of the this complex plot eventually combine in an assault by Yukari's paramilitary force on General Wu's compound in the Golden Triangle. Despite the complexity, the plot is coherent and involving. This is definitely one of Philip Ko's better directorial efforts, and deserved the financial success it enjoyed when released in HK. The movie is well paced, with a good soundtrack and no comedy. There is also an element of character development, exposing the ultimate futility of greed and betrayal, as well the resulting vulnerability. Yukari mainly appears in the final third of the film, and steals the ending with her athletic style and entertaining form. The movie's action is quite brutal, with uniformly good martial arts performances.
A 2, B 3.5, C 2.5, D 3, E 3.5, F 3 (17.5). Highly Recommended

---
"Framed" (1989)
(Dir. Cheung Kwok Ming)
Simon Yam and Alex Man star in this fairly routine police drama. Yam's character is framed for drug possession and Man's for a murder, both by their corrupt supervisor. After suspecting Yam for the murder, the two eventually join forces in a showdown with their boss. Yukari has a cameo role as a witness to the murder, and believes Alex Man to be the culprit. When he escapes from police interrogation and confronts her at a health club where she works as an aerobics instructor, she delivers a vicious physical beating that represents an arrogant display of physical prowess and talent. It ends only when she electrocutes herself by kicking out a neon sign. Unfortunately, her role is not developed, and she is quickly shot during the final confrontation. However, she is worth watching for a form-hugging leotard and a great fight cameo.

A 2, B 3, C 1, D 2, E 2.5, F 2 (12.5) Recommended

---
"Kung-Fu Wonder Child" (1989)
(Poly Film (H.K.) Ltd., Dir. Lee Tso Nam)
Despite a credited release date of 1989, this Taiwanese movie appears to have been made earlier. An evil priest kills a grandfather and his adult granddaughter, capturing their spirits. Chiu Yu (Yukari) searches for her two relatives, encountering a hopping vampire along the way. Meanwhile, Hsu Chuen, the granddaughter of the cook at a monastery, has secretly acquired kung fu skills. She helps two trainee monks, Mi Fu and Tudo take revenge against their harsh masters and seniors. Chiu Yu enlists the trio's assistance to search for her relatives. They confront various demons in human guise before finally locating where the evil priest keeps the spirits of his captives in clay jars. Chiu Yu spends her last night polishing her sword, only to be killed in a confrontation with an animated dragon.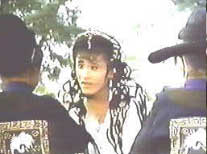 In this period costumed "chop-socky" slapstick comedy, demons and spells alternate with typical Taiwanese kung fu sequences - with considerable wire work. Unlike her earlier Taiwanese appearances, Yukari has a speaking part. Although compromised by rather offbeat action and juvenile humor, Yukari's period costume is interesting. Quick glimpses of leg are associated with some incredible kicks, including an ax kick delivered to the top of a man's head. Both he and Yukari are standing at the time! Favorite line (Yukari): "I would rather die with them."
A 2, B 3, C 3, D 2, E 2, F 2 (14). Recommended

---
"Lucky Seven II" (1989)
(Art ? Film Production (H.K.) Co. Ltd./Quali-Vision Products, Inc., Dir. Philio Ko)
Seven young boys, including the son of the Police Chief, are recruited to attend a training camp where they refine their martial arts skills. In this Taiwanese action comedy the boys are to serve as undercover agents to apprehend a child kidnapping ring. Fei (Philip Ko) and his partner Huay seek to double-cross "Flower King," the head of the kidnapping ring. Flower King (Yukari) leads a gang of leather clad gun toting females - some of whom are excellent martial artists.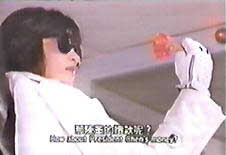 Unfortunately it sounds more interesting than it actually is, and the actual film more closely resembles a parody of the genre. Yukari looks like an Elvis impersonator, complete with white costume, cape and over-sized sunglasses. She has one very brief but excellent fight scene set in a tunnel. This involves several jumps, flips and a jumping split kick at head height. After their training the boys rescue one of their number who has been kidnapped. They defeat Flower King and her gang - using slingshots.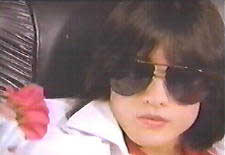 Slow pace and goofy comedy make this significantly less rewarding than most Taiwanese action comedies. It's not worth the considerable trouble to find it. One small point of interest is that Yukari can shoot a large caliber handgun without blinking or the slightest change in her facial expression.
A 2, B 2, C 1, D 1.5, E 1.5, F 0 (8)

---
"Punch To Revenge, A" (1989)
(Gold Lion Production Co., Dir. Lee Chiu)
Fan Yu Ling (Yukari) is an HK social worker providing services to Tsang Kin Kau (Eddy Ko) and his family. Tsang was crippled in an attempt to escape to HK from China, and is humiliated by living off his wife's earnings as a prostitute. In an effort to make a big score and save face, he brings his cousin Chun and three accomplices from China to mount the robbery of a jewelers. A corrupt ex-HK detective Ma Tin Hung - now a loan shark - is supposed to fence the jewels, but double crosses the gang and sets up the naive Tsang. Sergeant Peter Lee investigates both cases, and a chance encounter between Fan and her client Tsang is the break he needs.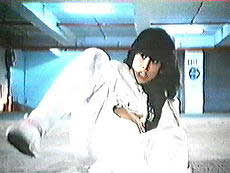 As the police begin to close in, Ma and the gang attempt to intimidate Lee by beating up Fan in the elevator of her building's parking garage. In this brutal sequence Fan in knocked to the ground and urinated on. She fights off her attackers, then uses her growing relationship with Lee to locate Ma. In one of several of the movie's intense and well choreographed fight scenes she trashes Ma's office. His men go flying over desks, Yukari (Fan) pitching one head first into a television set and knocking another through the glass door to Ma's office. Now that's a social worker! As the Mainlanders' plans unravel, one is arrested and Tsang is shot to death in the crossfire with police. The gang members then seek revenge on Ma, but not before he attempts to kill Fan to prevent Tsang's incriminating diary from being passed on to the police. This involves another wonderful fight for Yukari against overwhelming odds. Her blood and suffering are compellingly acted. As the Mainlanders finally confront Ma and his men in a brutal battle, the Police arrive. After a brief hostage standoff, the gang members and Ma are killed, one by one. One dies by a table saw, another by being set on fire. Crime doesn't pay.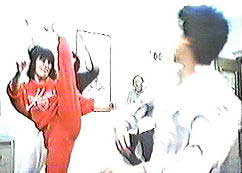 Eddy Ko delivers a superb performance as the tormented yet pathetically proud Tsang who cannot deal realistically with his situation. Although Yukari does not have a large amount of screen time, her appearances are well used. Her acting is solid and her fights are intense. Jumps, split kicks, ax kicks, sweeper kicks and kip-ups - all her trademark moves - are well in evidence. The other action is just as good in this well crafted movie. Its also rewarding to note small touches such as the close ups that do not avoid Yukari's pimples or ragged teeth. Also, Tsang's child is profoundly mentally retarded - immobilized by severe cerebral palsy - yet the couple's obvious love for him is not sentimentalized. No Western action films have accorded such a part to a child with profound disability.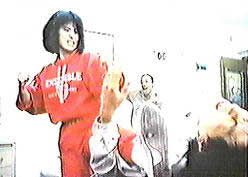 Such willingness to depict people's ordinary imperfections and challenges is further refined by the ambiguity that attends many of the characters. Tsang is actually a flawed, sympathetic figure, while Lee's ambition and indecisiveness costs others their lives. This film must be seen in the Cantonese version, since the English dub loses most of the relationship nuances and reduces Ma from a conniving figure to merely a caricature. It's also worth finding a laser disc so that the details of Yukari's encounters are clear.
A 2.5, B 4, C 2.5, D 3.5, E 4, F 3.5 (20). Highly Recommended

---