---
Lam Pan-kwun
This action performer appears to be a capable martial artist who was cast in a leading role as a police detective in the Taiwanese crime drama "Drug Tiger" (1993). The previous year she had played the seductively selfish fashion designer "Catherine" opposite Michiko Nishiwaki in "Passionate Killing in the Dream" (1992), but had only a brief opportunity to demonstrate her martial arts form.

In "Drug Tiger" Lam has ample screen time and numerous fight sequences, displaying both athleticism and skill. She also conveys a touch of irony and ruthlessness – suffering fools not at all gladly. This makes her performance well worth seeing, despite the low budget nature of the production. In some ways, her role in "Passionate Killing in the Dream" is also more interesting than Nishiwaki's, due to constraints on the latter associated with the nature of her part.

---
Lau Kar-ling, Carina
Carina Lau emigrated to HK from the Mainland as a teenager, enrolling in a TVB training course after finishing high school. She appeared in a number of TV dramas before her film debut in 1986.

Her more than 40 film roles span various genres, ranging from classic to romantic. Action roles include "She Shoots Straight" (1990) and "Lady Super Cop" (1993). Her latest action role is in the comedy "Cop Shop Babes" (2001).

---
Lee Choi-fung, Moon
Perhaps no other single actor better symbolizes some of the difficulties in making generalizations about HK cinema. Despite widespread popularity in overseas markets and a successful television career, Lee's films were apparently not especially popular with home audiences. She had joined RTV studios after finishing her secondary education, and engaged in TV work during the early 1980s. Her 1981 movie debut in "To Sir with Trouble" was followed by "Zu: Warriors from the Magic Mountain" (1983) and parts in a Jackie Chan film "The Protector" (1985), "Mr. Vampire" (1985) and "Mr. Vampire 2" (1986).

Lee reportedly lacked previous martial arts experience, and began training with Tsui Siu-ming after becoming an actor. He would later direct her in the action spectacular "Bury Me High" (1991). As with several of her peers, the experience and flexibility associated with training in ballet paid off. In the 1987 film "Angel," Lee presented the combination of naïve charm, stellar athleticism and a touch of ruthlessness that would define her screen persona. She shone when teamed with or against female Japanese martial artists such as Yukari Oshima and Nadeki Fujimi in films that arguably defined the GWG genre – "Killer Angels" (1989), "Mission of Condor" (1990), "Dreaming the Reality" (1991), "Angel Terminators II" (1993) – many directed by Wong Chun-yeung.

But Lee's screen allure was largely a product of typecasting. When cast as a murderer in "A Serious Shock! Yes Madam!" (1992), Lee displayed dramatic range that had only been glimpsed previously in "Dreaming the Reality." After weathering a serious injury during a stunt explosion while making "Devil Hunters" (1989), Lee went on to make in excess of 30 films. By 1994, she was again involved in TV work for TVB, and now appears to have retired.

---
Lee, Michelle (aka Michelle Reis)
Michelle Lee, a former Miss Hong Kong, appeared in TV dramas during the late 1980s with a film debut in 1990. She has appeared in more than 20 varied parts, including a strong dramatic lead performance in the GWG film "The Other Side of the Sea" (1994). She also appears as an assassin in Black Morning Glory as an assassin's agent in the Wong Kar Wai film, Fallen Angels.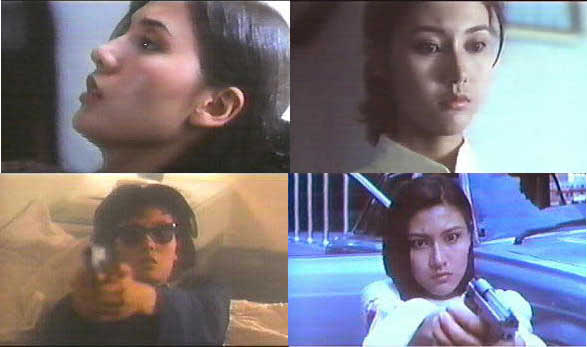 ---
Leung Ching, Jade
Jade Leung was apparently educated in Switzerland, returning to HK in 1990. Despite neither martial arts nor acting background, she was doubly fortunate to land the lead in "Black Cat" (1991) and for this film to be a success on the international market – gaining her a Best Newcomer acting award. Leung would continue to make action films, but with mixed results. Few would approach the intensity of "Black Cat," although "Fox Hunter" (1995) represented one of her best performances.

By the time she appeared in "Spider Woman" (1995), Cat. III elements could be discerned – these being marked in "The Peeping Tom" (1997). While filming "Enemy Shadow" (1995) Leung was reportedly burned during a stunt, perhaps contributing to a more cautious approach to action scenes. Leung's filmography currently stands at approximately 20, the majority action.

---
Lin Hsiao Lan (aka Sharon Foster)
This diminutive Chinese Opera trained Taiwanese action actor has starred in several entertaining action films, including "The Dignified Killers" (1987), the period "Kung Fu Wonderchild" (1989), and the contemporary "A Heroic Fight" (1989) – in which she confronts Dick Wei.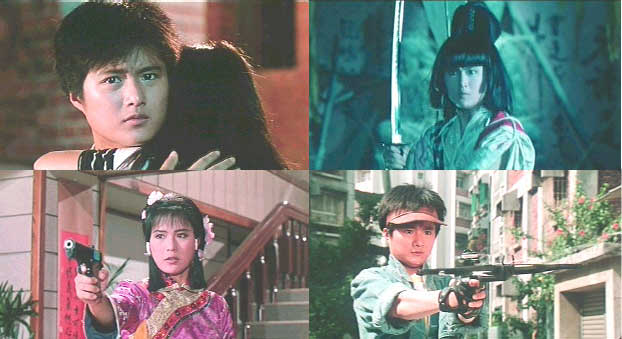 ---
Lui, Elaine
After the surprise hit "Angel" (1987), Elaine Lui would appear in eight or so films in as many years. Although she had not previously trained as a martial artist, Lui mastered the essentials of screen action and stunt work at a level commensurate with her strong role in "Stone Age Warriors" (1991).

This film ranks among the outstanding products of HK action cinema, and paved the way for Stanley Tong to direct "Supercop" – arguably the single film that brought Jackie Chan and Michelle Yeoh to the attention of mainstream international audiences. Lui appeared in a number of other action films, primarily in supporting roles. One of the best was as a ruthless terrorist in "The Red-Wolf" (1995). Her physical skills are well displayed in "The Innocent Interloper" (1986).

---