---
Ng, Kar-lai, Carrie
Carrie Ng originated from Kowloon, and after completing secondary education joined TVB's drama school. Her screen debut in 1987 was soon followed by a solid dramatic performance in "First Time is the Last Time" (1989) – one of many parts in which she would be cast as someone with a past or facing insurmountable personal difficulties. Ng would appear in a number of Cat. III films such as "Ladies Killer" (1991), "Naked Killer," (1992), "Hero Dream" (1992) and "Evil Instinct" (1996) that featured relatively graphic scenes.

In addition to appearing in a number of straight action roles (e.g., "Hard to Die," 1990; "Crystal Hunt," 1991; "Mission of Justice," 1992; "Cheetah on Fire," 1992; "The Armed Policewoman," 1995), Ng also played roles in which her character suffered at the hands of others (e.g., "Angel Terminators," 1990; "Candlelight's Woman," 1995). She has so far appeared in more than 80 widely varying roles, picking up a Taiwanese Best Actor's award for "Remains of a Woman" (1993). Her latest action film is "X-Cop Girls" (2001) in which she has a supporting part.

---
Ng Kwan-yu, Sandra
A prolific career actor with a filmography of 80 or so appearances, Sandra Ng is best known for comic supporting roles although she has appeared in virtually all the major genres of the HK film industry. Ng was raised in HK and after secondary school enrolled in the Arts training course of TVB, later appearing in TV dramas. Her subsequent film career included prominent parts in "Operation Pink Squad" (1988) – an early GWG action comedy, and the action drama "Thunder Cops II" (1989). Despite a strong dramatic performance in this dark actioner, Ng evidently found more work in action comedies (e.g., "The Inspector Wears Skirts," 1988 – 1992; "They Came to Rob Hong Kong," 1989) as well as in a series of ghost, witchcraft and relationship comedies.

During the mid to late 1990s Ng overhauled her screen persona. A dramatic loss of weight combined with maturity to yield a more chiseled, harsher facial appearance. With a short, masculine haircut Ng crafted an assertively brash screen character who appeared in offbeat relationship dramas such as "Modern Romance" (1994) as well as in dramatic roles in the triad revival sparked by "Young and the Dangerous." Ng's best performance may be as Sister Thirteen, an aspiring triad, in "Portland Street Blues" (1998), followed by an ironic post-modern parody in "Jiang Hu – The Triad Zone" (2000).

---
Nishiwaki, Michiko
This three-time Japanese national bodybuilding champion would have parts in almost two dozen Asian action films. After appearances on Japanese television, Nishiwaki was cast in a small supporting action role in the hugely successful Sammo Hung/Jackie Chan film "My Lucky Stars" (1985). She would complete her best HK film work toward the end of the decade, appearing in another physically captivating cameo in the blockbuster success "God of Gamblers" (1989), as well as perfecting an unconventional femme fatale supporting character in action films.

In titles such as "In the Line of Duty III" (1988), "Princess Madam" (1989), and "Angel Terminators" (1990) Nishiwaki combined dark passion, visual flair and strong action skills to produce vividly memorable character parts that contributed greatly to the success of these films.

Other action roles included parts in the superior "Widow Warriors" (1990), "The Outlaw Brothers" (1990) and "The Mighty Gambler" (1992), as well as the GWG title "Hard to Die" (1990). In these films Nishiwaki appeared in supporting roles alongside most of the principal female action actors of the day. As the market shifted, she was evidently prepared to venture into Cat. III titles (e.g., "Hero Dream," 1992).

By the early 1990s Nishiwaki had developed her acting and martial arts skills to the point where she could be considered for leading parts. Unfortunately, casting her as the hero is later titles such as "The Real Me" (1991), "Big Circle Blues" (1992), "Passionate Killing in the Dream" (1992) or "Whore and Policewoman" (1993) did not present Nishiwaki's real screen strengths. She now works as a stunt player in Hollywood.

For more information on Michiko, please refer to the Michiko Nishiwaki section on this site.

---
Oshima, Yukari (aka Tsumura Yukari, aka Cynthia Luster)
Yukari Oshima had a combination of talents and industry experience that is unlikely to be repeated. As a Japanese she defied the odds against non-Chinese actors to produce perhaps the largest filmography of pure contemporary action roles – more than 60 – of any performer reviewed here, appearing under three screen names in three distinct film industries (HK, Taiwan and The Philippines). As a teenager Oshima studied judo and gymnastics, in addition to Goju ryu karate at a competitive level. Her physical conditioning allowed greater than 180-degree leg extensions, resulting in eye-popping high kicks. Oshima's roundhouse could be to the head or neck – not just the torso.

At her prime (e.g., "Funny Family," 1986; "A Book of Heroes," 1986; "Close Escape," 1989; "Outlaw Brothers," 1990) her physical skill was quite distinctive – and could be measured by the extensive list of male martial arts champions or instructors she would fight in long filming takes. It is worth noting that Oshima was one of the relatively few prominent female action performers to actually be a martial artist. Other attributes included a year studying at Sonny Chiba's stunt school, and stunt work on Japanese television before her movie debut in 1986. Yasuaki Kurota – an acquaintance of Oshima's sifu – was reportedly instrumental in getting her a part in Sammo Hung's "Millionaire's Express" (1986). The combination of martial arts and stunt skills were in evidence throughout Oshima's career. No other female action performer would equal her falls and capacity to take – as well as give – physical punishment.

After breaking into the HK industry, Oshima's career took off with her performance in "Angel" (1987), to be followed by several good action roles (e.g., "Angel's Mission," 1989; "Close Escape," 1989; "Brave Young Girls," 1990). In addition to a supporting action role in "Final Run" (1989), Oshima was also an action co-director. Some of her best roles were two directed by Frankie Chan ("Burning Ambition," 1989; "The Outlaw Brothers," 1990), and darker portrayals directed by Wong Chun-yeung that included some of the genre's best (e.g., "That's Money," 1990; "Dreaming the Reality," 1991; "Angel Terminators II," 1993), pairing Oshima's rather intense screen presence with Kara Hui, Moon Lee and Sibelle Hu. Oshima's other credits included running a talent business that reportedly launched the movie career of Sophia Crawford, and being producer of a film ("1/3 Lover," 1993) in which she also has a cameo role as comic relief.

With changes in the industry, Oshima relocated to The Philippines where she appeared in work directed by Phillip Ko, before returning to make more films on the Mainland toward the end of the decade. Her last noteworthy appearance was in the "It Takes a Thief" (1999), and although "Digital Warriors" was marketed under her name, her participation was canceled and the project emerged as "Techno Warriors" without her. She reportedly continues to appear in films produced in the Philippines. Fans seeking recent titles should also definitely locate "Vengeance is Mine" (1997).

For more information on Yukari, please refer to the Yukari Oshima section on this site.

---
Penn, Kim Maree
This Australian martial artist has appeared in numerous fight cameos. Her most extensive screen part appears to have been a supporting role in "Live Hard" (1989) and Fun and Fury (1991). As one of the screen villains destined to take a beating, Penn has nevertheless enlivened several well-known action films, including "In The Line of Duty 5" (1990), "Queen's High" (1991) and Police Story III (1992). She also runs a security company in HK.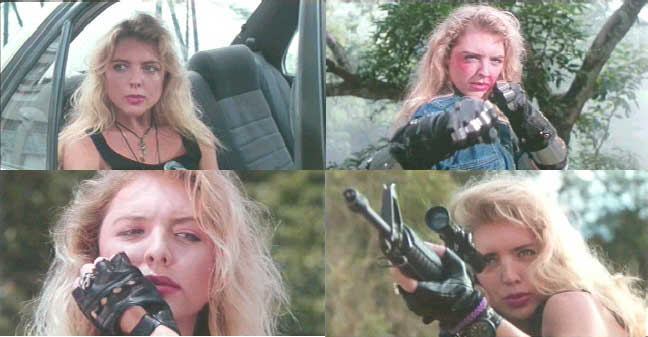 ---