---
Kam Hing Yin
He is from the TVB preparatory class of 1970 and had one of his bigger roles in the well-regarded 1979 film Cops and Robbers as the inspector.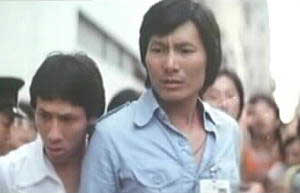 In Royal Warriors he was the other hijacker who tried to help Michael Chan escape. A few other films he has appeared in were: Cherry Blossoms, Vengeance is Mine (1988), Once a Black Sheep, the police captain in A Better Tomorrow and Portland St Blues (1998) as Alex Fong's friend.
(Information provided from Sebastian Tse)

---
Kam Kwok-leung
Born in 1954
This respected actor/producer just recently made a rare screen appearance as the Khmer Rouge fanatic in Purple Storm.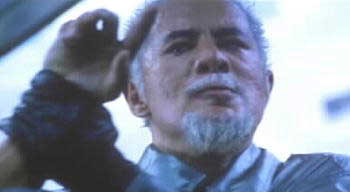 In 1970 he made his debut on TVB and in 1974 had the main role in the classic Shaw Brothers horror film Killer Snakes. Most of his career has been filled up as a producer in TV – but he has also occasionally directed films like Wonder Women (1987), Keep on Dancing (1988) and 4 Faces of Eve (1996). A few other film roles of his have been ones in Sisters of the World Unite (1991 - the man in the restaurant) and Slow Fade (1999).
Kam Kwok Leung is currently the CEO of Commercial Radio in HK. He has several times been voted HK's best dressed man. Electric blue leather jackets are his stock in trade! (Thanks to Pete for this info)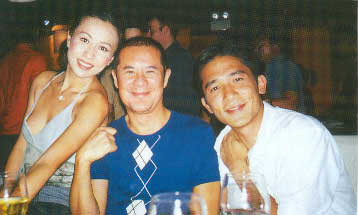 ---
Kan Yi Ching (a.k.a. Greenstreet Kan)
He was in Queen of Gamble, Fun and Fury and The Other Side of Gentleman

James Chang has this to say about him:
Kan was born in 1927. His father, Prof. Kan Kam-shek, was a very famous archaelogist and classical scholar, professor of Chinese (in British system, prof.=chair prof.) in the University of Hong Kong. His prestige as a scholar came to an end when he served the Japanese during the occupation period. (1941-1945)

Kan Yi Ching himself was an eccentric person. He was an extremely prodigious person, and was expert in most fields of the liberal arts. He was also a connoiseur of food and wine as well as a musicologist. Nevertheless, his behaviour is sometimes considered "outrageous" as he led a highly colorful private life. At the age of 70, he managed to marry a woman 50 yrs his junior (Tony Curtis?) and kept his sex schedule busy. Unfortunately, side effects of various medications deprived him of his eventful life in 2001".

---
Kara Hui Ying Hung/Claire Wai
Born in 1960 in China
Going into her fourth decade as an action actress, Kara is simply an astonishing woman with an incredible career behind her – but for reasons that elude me she has never quite achieved the popularity of so many of the other action actresses. Her physical skills are easily the equal of any of the female action stars, she is quite attractive (though not in a cute way which may have hurt her) and is a fine actress. Even though she has been in many films that are largely forgettable, Kara never is – and when she is in a good film she just explodes across the screen.

Her brothers all went to Peking Opera School for training – and one brother, Hui Tien Chi (aka Austin Wai), went on to work for Shaw Brothers – but Kara was not allowed to and so learned dancing and contortionist tricks on her own (these latter skills can be evidenced by her bend over backwards jaw dropping trick performed in Fist of the White Lotus and the opening credits of Legendary Weapons of China). She began performing these on the streets trying to pick up some pocket money when she was spotted and lured into show business at the age of 17 years old. Her mentor (and later much more than that) at Shaw Brothers was the legendary director Lau Kar Leung and he was to use Kara as his prime female actress for a number of years. It was actually a challenge for Lau to do this because during the late 70's the Shaw Brothers output had become very male oriented – and Mona Fong (Run Run Shaw's main squeeze and producer - and later his wife) was not interested in utilizing females in action roles. Lau insisted though and got his way and Kara was on her way.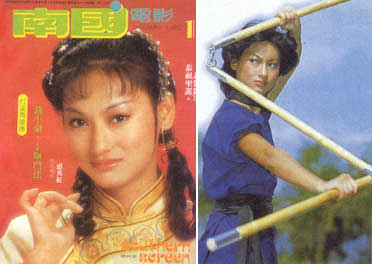 Her first role was in the classic 1977 film Chinatown Kid and she was to appear in many of Lau's films – sometimes in action roles, sometimes not – the Brave Archer series, Dirty Ho, Return to 36th Chamber, Legendary Weapons of China (1982) and 8 Diagram Pole Fighter (1984). Two legendary films though were to really make her reputation – the 1981 My Young Auntie and the 1983 The Lady is the Boss. Kara received the Best Actress award for My Young Auntie as well as the nickname "Auntie" that was to stick to her through her career. Her performance in this film is simply wonderful – a giddy display of agility and grace but she also shows a charming light comedic touch that makes the film a classic.

By the mid-80's of course the period kung fu film was fading fast and a new genre and style of female action film – the Girls with Guns – was on the rise. For various reasons, not many female action stars from the kung fu period made this transition as stars like Angela Mao, Polly Shang Kwan, Judy Lee and Hsu Feng all retired. Kara was still in her mid 20's though and continued making films and had no trouble switching to the more modern female action films – after handling swords, spears and poles for years a gun was certainly no problem.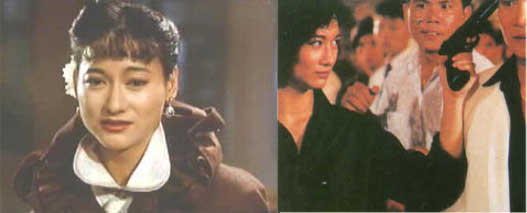 In her career Kara has appeared in about 100 films with the 10 years from 1984 to 1994 being her most prolific. Many of these films are excellent – Rosa and Naughty Boys in 1986, the Inspector Wears Skirts series (1988 -1992), the incredible Burning Ambition (1989), Widow Warriors, Brave Young Girls, Stage Door Johnny, That's Money (1990), Roar of the Vietnamese (1991) and Angel Terminators (1992). In many of these such as Stagedoor Johnny and Naughty Boys, Kara also displayed some fine dramatic skills. She was also making loads of low budget action films that can be somewhat fun to watch – They Came to Rob Hong Kong, as a blonde haired villainess in Dragon from Shaolin or her very funny and sexy turn in Madame City Hunter. Kara is still making rare appearances in films such as Fist Power (2000) and a terrific cameo in Visible Secrets.
In what seems an odd career choice, Auntie did a revealing Playboy pictural at one point, quite a stunning thing to do at that juncture in her career. Despite her willingless to shed her clothes for that one occasion though, she did not descend into making Category III pictures.
(Information provided by Yves Gendron)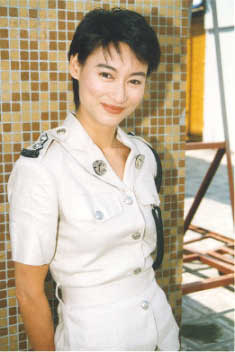 ---
Karen Mok Man-wai/Karen Joy Morris
Born 06/02/70
In his Fallen Angels photobook (which is entitled Angel Talk), Christopher Doyle makes the following comments about Karen Mok: "She is a doll (in the "wonderful person" sense of the word). An open and giving person, more confident than most of her age or experience, open, expressive, unpredictable and very "professional". Like her screen character, Karen makes you smile from the moment she's on the scene" (1996:44)
Karen certainly comes across as one of the more intelligent and out spoken of the current actresses in HK. She appears to be no wallflower and has no desire to play them or characters invested with cutie pie characteristics. She likes playing quirky and/or tough characters with an edge to them – roles that are challenging and go against expectations. A role of hers that seems to be a fan favorite was in God of Cookery in which she was willing to apply makeup that made her quite unattractive and disfigured – something very few HK actresses would be willing to do.

She has an interesting background – a mother who is a quarter Persian, a quarter German and half Chinese – and a father who is half Welsh and half Chinese – and she continued her cross cultural odyssey by attending university in the UK for four years. There she met composer and musician Mark Lui and joined his band as the singer. She also spent two years in Italy studying Italian literature.

Upon returning to Hong Kong she began a career in both film and music and has approached each with caution. She is quite choosy in her film roles and has appeared for the most part in quality films. Her debut was in 1994 in Family Affair, but after this she went on a series of terrific films – Chinese Odyssey I and II (and started a film and personal relationship with Stephen Chow that lasted for a few years), Fallen Angels (for which she received the Best Supporting Actress award), Sexy and Dangerous, Young and Dangerous III -- and yes, that really is her voice you hear hurling all those English swear words in rapid fire succession at Jordan Chan's Chicken and co. in that scene which introduces her character! -- and IV, Viva Erotica!, God of Cookery and Black Mask.

After 1996 her film output slowed down a bit, but she still managed a few top-notch films – Task Force, Kitchen, King of Comedy (1999) and the highly respected Tempting Heart. She has had success on the music front (her singing can be heard on the soundtrack albums of Flowers of Shanghai as well as Tempting Heart) too though in this Time Magazine interview she seems a bit frustrated by the limitations of Canto-pop: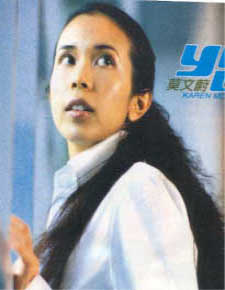 "It's just a vicious cycle. The record companies churn out the same thing because people are used to that. They're certainly not used to churning out innovative music because they're not willing to take the risk. So it's probably going to remain the same way for the next 50 years."
Here are some other snippets from this interview conducted by Stephen Short.
To the question of why are Japanese actresses so popular in HK, Karen responds "Yeah. That's because they've got big boobs."
Asked about Cecilia Cheung (her co-star in King of Comedy) being the new "It Girl", Karen acidly says "Looks like it, yeah. We worked together on her first movie King of Comedy and then everybody just latched on. Once they discover a young, new person with potential, they use it and squeeze the lemon until the pips pop out. It happens with both male and female actors. If you want to make a quick buck that's fine."
And of herself: "I've never considered myself run of the mill. Nobody ever considered me run of the mill. I think a lot of people here think I'm not really one of them. I took off very slowly, so to speak, which I consider a good thing. I think that's the reason I have lasted so long, well it seems pretty long. I've never really had a specific plan for my career, but the path I took was the right one for me. I'd hate to have been hip for two years and then forgotten. That's not what I want from being in showbiz. I want to enjoy it possibly for a few more years and as I said my prime is yet to come."
This girl has some attitude!

---
Karen Shepard
As far as I know, Karen was only in one HK film – Righting Wrongs – but her portrayal of an evil gweilo killer and her legendary fight with Cynthia Rothrock has made her a well-known name in HK fan circles. She was a U.S.A tournament martial arts champion before doing Righting Wrongs. One of her earliest film appearances was in the 1986 sci-fi film "America: 3000", a Golan-Globus film made in Israel. Since Righting Wrongs, she has appeared in a number of B action films in the states – Terminator Woman, Mission of Justice, Operation Golden Phoenix, The Privateers (2000) among others. She also made appearances on the TV show Hercules as the Enforcer and had another match up with Cynthia Rothrock! She has done her share of stunt work as well in TV - "Buffy, The Vampire Slayer" being one. She was born in 1961 in Colorado.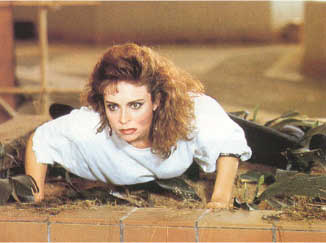 ---
Karena Lam Ga Yan/Lin Jia Xin
Birthdate: 17 August 1978
This Canadian-Chinese woman forged a singing career in Taiwan after being talent spotted while on vacation in the Asian country. After moving to Taiwan post finishing high school, she released two albums there before her singing career looked to have ground to a halt as a result of her getting into a legal dispute with her recording company that got her banned from recording for four years.
Instead of abandoning a career in the entertainment industry, she persevered and, in 2001/2002, burst onto the Hong Kong movie scene with a HKFA and Golden Horse Best Newcomer and Supporting Actress winning performance in July Rhapsody as a coquettish young student tempting her teacher (Jacky Cheung) into an affair. She has subsequently impressed in Inner Senses as well as appeared opposite Nicholas Tse in the teen-friendly Tiramisu, and looks to have a bright future in film -- and maybe again in music -- ahead of her.

Two 2003 films that she's appeared in have been Truth or Dare: 6th Floor Rear Flat (in which the non-smoker portrayed a chain-smoking aspiring book author) and Heroic Duo (her role as a police "madam" is the first in which she appeared in action situations).

Her cherubic smile and wide-eyed appealing innocent looks have made her popular with both youngsters and adults in Hong Kong. She still appears too young looking to perhaps have been romantically paired off with Leslie Cheung in Inner Senses or to be playing a Police Madam – but she has shown great potential that only needs to be matured.
(Written up by YTSL)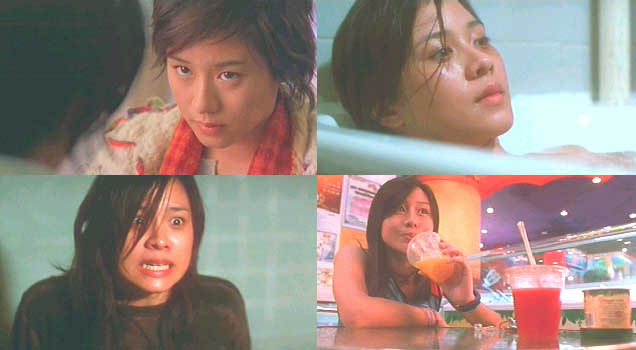 ---
Karl Maka
Born in 1942 in the Guangdong Province in China
As a producer/director/actor Maka has often been called one of the geniuses of Hong Kong comedy. I am not sure I would entirely buy this, but there is no doubt that for a number of years in the late 70's and early 80's his brand of humor was extremely popular and influential.
He moved to HK in 1958 and then five years later he emigrated to New York City where he studied as an engineer. It is difficult to ascertain whether he got his sense of humor on the streets of New York or later when he was working for the telephone company in New Jersey! At some point though he realized this wasn't for him and returned to HK in 1973 with his American styled humor well in tow.

He quickly got into the film business – first as an assistant director and then in 1976 directed his first film – The Good, the Bad and the Loser. Other comic films soon followed – Winner Takes All, Dirty Tiger, Crazy Frog, His Name is Nobody, Crazy Crooks and By Hook or by Crook. At the same time he began appearing in front of the camera – Dirty Kung Fu, Knockabout, The Victim. Films such as The Good, the Bad and the Loser and Dirty Tiger are considered leading films in comically skewering the period kung fu films of the time.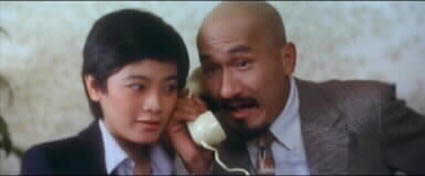 It was in 1980 though when he formed the film company Cinema City along with Raymond Wong and Dean Shek that Maka was fully able to put his Western influenced comedic imprint upon his films. In 1982, Maka made the first Aces Go Places film with Sam Hui and Sylvia Chang (who he was married to but has since divorced) and these films were tremendously popular in Hong Kong. The films were snazzy, fast moving, contemporary - and full of visual puns, frantic pratfalls and incredulous stunts. Maka's trademark bald headed and bearded character is by turns loyal, idiotic, clever, brave, cowardly, conniving and often annoying – and it is a classic character in HK film.
Though Maka's humor constantly references American style humor - that is not to say that it wasn't at the same time rooted firmly in Cantonese comedic tradition as it is irreverent, vulgar, inane, wacky, non-sensical and very linguistic-oriented. Just as with Stephen Chow, a Western viewer is not likely to get all the jokes, and as a result to them a Karl Maka type comedy might appear to be more juvenile than it really is.

During the first part of the 80's, Cinema City was extremely successful – producing a number of comedies that did well and introducing many stars to the public. They also acted as the producers for Tsui Hark's production company, Film Workshop, and therefore are partly responsible for such classics as Shanghai Blues, Peking Opera Blues and A Better Tomorrow and they also produced films such as Ringo Lam's On Fire series.
Towards the end of the 80's though Cinema City fell upon hard times when a number of their films collapsed at the box office with Dragon from Russia (1990) being the final nail in their financial coffin. Maka pretty much left the film industry by 1991 and began focusing on the real estate business – but the downturn in the real estate sector during the Asian crash of the late 90's generated large financial losses for Maka. In 2000 Maka returned to the film business with his old partner Sam Hui in the geared for the Chinese New Year film Winner Takes All 2000 – but it unfortunately did not fare well at the box office and Maka admitted that perhaps his style of family comedy is no longer popular.

Some other Karl Maka films to check out are - Thirty Million (Dollar) Rush, Skinny Dragon and Fatty Tiger, All the Wrong Clues, Beware of Pickpockets, Lucky Stars Go Places and Magnificent Scoundrels.
(Information and analysis provided by Yves Gendron)

---
Kathy Chow Hoi-mei
Born on 12/06/66
Those wonderful pouty lips and that slight but so sexy over bite of Kathy Chow have taken her to the Miss HK Pageant in 1985 and then on to a career in TVB and in the film industry. Though she had been around for a number of years, her over the top performance as a cigar smoking seductive femme fatale in Cheap Killers was a breakthrough in terms of bringing her to the attention of many fans in the West. The first sighting of her taking a slow sensuous outdoor shower in her clothes spells trouble and she definitely is.

Most of her career has been spent in TV with over thirty different series that she has appeared in and she starred in the recent big budget biopic on Run Run Shaw. Her film debut was in Cadets on the Beat (1986) and over the next decade Kathy appeared in some respectable if not great films – Holy Virgin vs. the Evil Dead, Fight Back to School III, Private Eye Blues, Don't Give a Damn (with Sammo), Love and Sex of Eastern Hollywood, Beast Cops (Michael Wong's girlfriend), Nude Fear and the classically bad Game of No Rule. For some reason her recent films - Cheap Killers, Beast Cops and Game with No Rule have been a change of image for her from sweet to tart and trashy.

She has also released a few albums and was at one time involved in a serious relationship with Ray Lui in which she ended up heartbroken.
---
Kei Heung
I have only seen this little vixen in the Anthony Wong film, Erotic Nightmare, but her evil Lolita performance was in it's own way unforgettable.

---
Keith Kwan Chiu Chung
Keith Kwan was a mix of Chinese and American and was educated overseas. He was famous as a presenter on the TVB English Channel, Pearl. Unfortunately, he passed away because of AIDS. His nickname was the Hong Kong Gene Kelly because of his resemblance to him. He is in Blonde Reporter alongside Cynthia Rothrock, Perfect Girls, Parking Service and Vampire's Breakfast.
(Write-up from Andrew)

---
Kelly Chan/Chen Wai-lam
Born on 09/13/73
Stone cold beauty like a translucent blue light in a snow storm. Kelly Chan is simply stunning – a classic oval face and big beautiful eyes – but it is a cool beauty – one more to admire from a distance than to get close to. She is a terrific singer (check out the songs she sings for Lost and Found and Anna Magdalena) – and singing is clearly what she is most interested in doing. Her infrequent film appearances feel so dispassionate that it is difficult to completely take to her as an actress. The exception to this was Lost and Found in which her cool repose was the perfect counter balance to the fact that her character was dying from a disease. Her low-key performance is extremely touching and powerful.

Her entry into the entertainment business was more accident than intent – on a summer break from Parson's School of Design in Manhattan, Kelly returned to HK to look for a summer job. She went to a production house for a job but was instead asked to appear in a commercial for Shanghai Beer. She was spotted in this commercial and an agent thought she had what it took to be a star – singer!

Looks play a very important part in HK's music industry (you will not find many unattractive Canto-pop singers - male or female) – and when the agent heard her voice his response was "it's OK" – but she was thought to look like a cross between Brigitte Lin and Faye Wong – and was well on her way.

In 1995 she had her film debut – Whatever Will Be Will Be – followed by Lost and Found (1996). By then she was a big enough star to be literally a cardboard character in The Age of Miracles! Her next film was not until the UFO film Anna Magdalena in 1998, but since then she has appeared in a slow but steady diet of high profile films – Hot War, Tokyo Raiders (in which the very popular in Japan singer-actress appears to speak fluent Japanese as well as Cantonese and English) and I Hate You So (2000).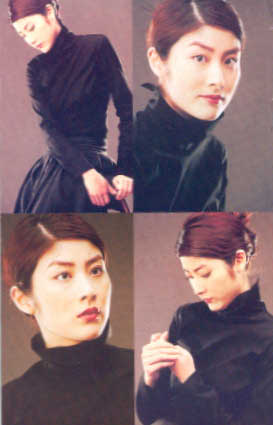 ---
Kelly Lam Hei-lui/Kelly Lin Hsi-lei
Wong Jing is always on the lookout for new and sexy talent for his films and Kelly is definitely sexy. He discovered Kelly in Taiwan and immediately cast her into a few of his films – Tricky Master, Conman in Vegas, Legend of Speed and Raped by an Angel 5. She also has made an impression in high profile films such as Running Out of Time 2, Full Time Killer, Legend of Zu and Martial Angels.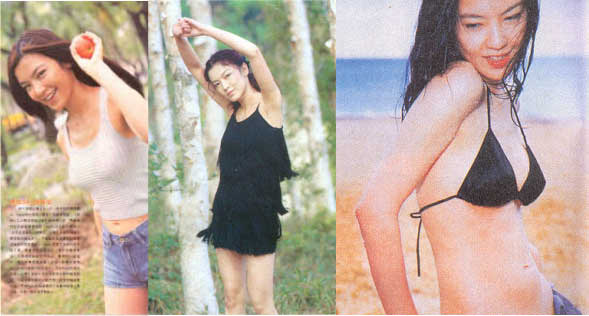 ---