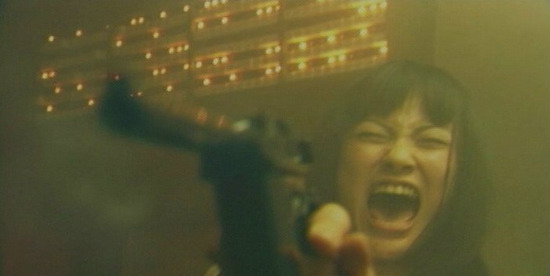 ---
Selected Reviews
After Sadako: Women in J-Horror
"Everybody betrays me" (Miki Sakai, "Tomie Re-Birth: Another Face")
---
"Flower and Snake" (2004)
Situated uneasily at the boundaries of horror, pornography and drama, Takashi Ishii's cinematically impressive excursion into the realm of fantasy and kinbaku is a deeply disquieting work. Its narrative, constructed around abduction and torture, invites a reading as horror. Yet, despite being constructed as a multi-layered exercise in voyeurism, Ishii subverts the conventional view of the cinematic gaze in horror by returning control of the "look" to the film's female protagonist "Shizuko" played by Aya Sugimoto ("Gang Wives: Flame of Love"). Although "Shizuko's" body conveys fear and pain, it is scarcely passive. By recruiting the gaze of others, "Shizuko" essentially controls them. In this respect, Ishii's film may represent an unusually frank examination of the power of masochism that may be the hidden attractor in many horror texts.
As the film unfolds in a series of seemingly disconnected vignettes that might actually represent "Shizuko's" own fantasies and imaginings, it becomes apparent that these have become the determinants of what actually happens to her. Her gaze is literally controlling. Her body, in being looked at, paradoxically acquires control over that gaze. "Shizuko" ultimately kills the three men who have seemingly trapped her body – the super-rich elderly voyeur and his violent yakuza assistant who are her literal abductors, and her husband who has become her spiritual abductor by trading her to avoid yakuza extortion. Consequently, "Shizuko" could be regarded not as the classic victim in a misogynistic horror text, but as a monstrous figure herself – her bodily excesses of nudity, humiliation and physical postures representing a female counterpart to the active, clothed, mysterious figure of the stereotypic male monster.

The film's cinematography also subverts genre conventions by lavishing attention to lighting, camera angle, costume, and the power of extended scenes with a static camera. Sugimoto's performance is astonishing. Her triumph is to participate for much of the film in acts of considerable depravity while maintaining a subtle poise and aloofness that distinguishes experiencing from abject submission. Although bound and immobile, she is never helpless. Although completely naked for much of the film, she is never an object.

Between them, Sugimoto and Ishii have distilled the essence of the cinematic "look" and its "return" in horror to explore the taboo of controlling by being looked at – and returning this look by further bodily excesses that total capture the gaze of the watcher.
---
"Hellevator: The Bottled Fools" (2004)
Hiroki Yamaguchi's vision of a subterranean urban dystopia elicits excellent performances from a novice cast. The film offers a blistering social criticism of patriarchal power at both a macroscopic and intensely personal level. The city-state envisioned by Yamaguchi is literally and figuratively stratified into levels according to occupational and social status, under omnipresent video surveillance by male controllers. Stereotypic occupational differentiation is perceived as an artifact of these pervasive controls, together with the marginalization and alienation of entire social groups. The occupants of this culture move endlessly between its various levels without any clear sense of larger purpose other than adherence to rules.

"Luchino Fujisaki," (Luchino Fujisaki) the school student at the center of the narrative, has been the victim of paternal abuse, the devastating consequences of which play out within the confines of a large elevator that is the society's principal means of mass transit. This setting serves as crucible for the testing to destruction of various prescribed social roles. Here, these are enacted by a group of strangers who are unexpectedly exposed to life-threatening violence at the hands of two escaped convicts. The collapse of rules and roles provokes "Fujisaki" to a murderous rage against the males who are present. Her actions, however, surpass any legitimate standard of self-defense and eventually condemn her to the ultimate sanction. Ironically, this constitutes expulsion from the society – itself a comment on conformity pressures.

The horror of violence in this film is persuasively linked to specific environmental circumstances rather than to essentialist attributes of individuals. In so doing, Yamaguchi implicitly raises questions about the temporary and conditional nature of rule adherence as well as the possibilities of alternatives. "Hellevator" is an excellent work whose budgetary constraints are more than offset by enthusiastic performances and innovative plot.
---
"The Locker 2" (2004)
Kei Horie's sequel to the original 2003 homage to conventions of J-Horror opens with junior high school girl "Ayano Kubo" (Maki Horikita) keeping vigil at the bedside of her comatose tutor "Rieka" (Asami Mizukawa). "Rieka" – one of the previous victims of the vengeful spirit of "Sa-chan" from "The Locker" – had lifted "Ayano's" spirits by convincing her that no child is born unwanted. "Ayano" had revealed that her own mother had died shortly after her birth, for which her father evidently blamed her.

"Rieka's" wisdom and warmth sustain the younger "Ayano" through her own confrontation with "Sa-chan" – who is revealed as the spirit of a baby abandoned at birth in coin locker #9 under Shibuya Station. Having quickly become an urban legend, "Sa-chan" actually curses those who open this locker to make an offering and pray for romantic success.

Several of "Ayano's" schoolmates die in inexplicable ways, as do the medical investigators of these serial deaths. Only "Ayano," buoyed by wisdom beyond her years, keeps a cool head and invokes the memory of "Rieka" to help her confront the ghost of "Sa-chan."

Generic J-Horror elements of urban legend, schoolgirls, superstition and a vengeful spirit are elevated in this film by 16-year-old Maki Horikita's simple yet sincere performance. Her character's goodness interacts with a subtext of neglect of children and youth to breathe life into this familiar material.
---
"Tokyo Psycho" (2004)
Ataru Oikawa's low budget tale of stalking and survival is carried by a Sachiko Kokubu's strong performance as "Yumiko Osaku," a fairly ordinary young woman who discovers she is being stalked by a former high school classmate. He makes an unexpected physical appearance after a long absence as well as sending various disturbing messages through the mail. "Yumiko" has some knowledge of his intentions, but has kept the history of his previous unwelcome attention to herself – itself a commentary on social priorities and pressures.

A nice touch is that just as "Yumiko" is a reliable employee and good neighbor, she immediately also sets out to "do her best" with this new challenge. She conducts a web search on her assailant, enlists the help of her friend "Mika" as a private investigator, and searches the stalker's apartment, only to make the discovery that he may be bent on murdering her with piano wire. Despite background knowledge about the stalker she last saw years before, "Yumiko" does not realize until too late that the helpful boyfriend of her co-worker and the stalker from high school are one and the same. After murdering two of "Yumiko's" friends in gruesome fashion, the stalker "Omiyagi" succeeds in capturing "Yumiko" and takes her to a rural location where he torments her by spitting worms onto her face – before begging her to marry him!

Despite the seeming hopelessness of her predicament and complete isolation, "Yumiko" does not give up. She fights back, and after the struggling pair fall into the sea "Yumiko" ultimately succeeds in strangling "Omiyagi" to death. This film lacks the gratuitous sexual scenes so frequently characteristic of comparable titles, and consistently presents "Yumiko" and her predicament in a sympathetic light. Unlike many other films, "Yumiko" is neither fearless nor physically proficient. She returns to her normal life saved but not changed. Other noteworthy elements include the foregrounding of strangling as a tool of male abuse, and the ultimate redemptive power of immersion in the sea.
---